VPN usage in Italy rockets by 112% and 53% in the US, amidst coronavirus outbreak
Anton P. | March 16, 2020
According to Atlas VPN user data, VPN usage in Italy increased by 112% in the last week. Meanwhile, there are already 24,747 coronavirus (COVID-19) cases and 1,809 deaths confirmed in the country. On Sunday alone, Italy reported 368 new deaths.
On December 31, 2019, was when the first reports of the previously-unknown coronavirus form were reported to the World Health Organisation. Since then, VPN usage has increased in almost every single country with significant coronavirus cases. Over 53% of US citizens started using a VPN more often.
We derived data from our 50,000 weekly users. We measured how much traffic traveled through our servers last week (March 9-15) compared to the week before (March 2-8). The number of customers remained relatively the same during the two weeks.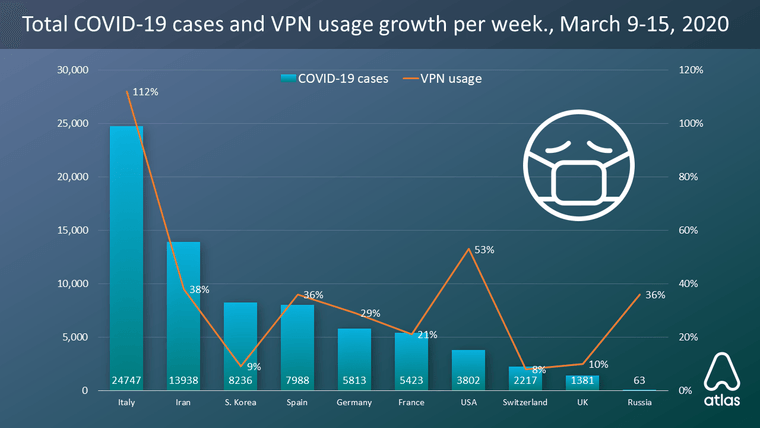 Even though there are only 3,802 confirmed coronavirus cases in the US, VPN usage has already increased by 53%. With 69 deaths in total, the death rate in the US is also not out of the ordinary.
Since March 13, the United States banned the entry of all foreigners from China, Iran, and Schengen Area countries.
"To keep new cases from entering our shores, we will be suspending all travel from Europe to the United States.", Donald Trump said last Wednesday.
Starting from March 16, UK and Ireland nationals will also be denied entry to the US.
Interestingly, even though there are only 63 confirmed coronavirus cases in Russia, the VPN usage shot up by 36%. The Russian government received allegations of downplaying the number of infections. Dedicated authorities denied the allegations and firmly stated they are reporting accurate numbers.
Suspicions aside, Russia is taking firm measures to protect people against COVID-19. They only left a few entry points from China so their citizens could come back. And, all Chinese and Italian citizens can not enter Russia. Besides, Russia already closed borders with Belarus, Poland, and Norway.
Why did the VPN popularity surge?
Firstly, most people are staying at home due to the quarantine. In most countries, only malls, pharmacies, and hospitals are still working. Furthermore, most schools are closed, and all large public gatherings are canceled.
By staying home, people spend more of their time on the internet than usual. Many choose watching films or TV series as the best entertainment form. However, the most popular streaming services, such as Netflix or BBC, apply geo-restrictions. With that, people may not be able to access certain films or shows due to the region they are in. Luckily, using a VPN allows users to overcome geo-restrictions and to enjoy their favorite content from all over the world.
Also, most companies now allow or encourage employees to work from home. To connect to the office network remotely, people have to use a VPN. This way, companies can ensure complete protection, from hacking their sensitive files.
What is more, some companies offer free services for Italians to show support. One of the best ways to identify your physical location is to check your IP address, you can change it with the help of a VPN. So, people from other countries can use a VPN to change their IPs and get free services by pretending they are in Italy.
Estimations for the future
Rachel Welch, Chief Operating Officer of Atlas VPN, shares her VPN usage estimation for the upcoming weeks:
"We estimate that VPN usage in the US could increase over 150% by the end of the month. Overall, the usage of VPNs should continue to surge if the coronavirus pandemic worsens."
With Atlas VPN supporting 4K quality streaming, users can enjoy their favorite content in crystal-clear quality. All of it in complete security and privacy.