Now you can purchase an Atlas VPN subscription using cryptocurrencies
Ruth C. | April 14, 2022
If you want to enhance your privacy online by upgrading your Atlas VPN subscription, a private payment method is a way to go. We're excited to announce that now you can purchase Atlas VPN premium using Bitcoin and other popular cryptocurrencies. 
Unlike other conventional payment methods that link the purchase to your name, cryptocurrency payments are anonymous. Therefore, they're a great payment option for those practicing utmost privacy whatever they do online, and those who live in highly surveilled countries and don't want the VPN purchase to be traced back to them.

How to buy a VPN subscription with cryptocurrencies?
If you already have a crypto wallet, upgrading your VPN subscription with cryptocurrencies will only take a few steps. 
Besides Bitcoin, you can make a purchase using Bitcoin Cash, Litecoin, Ether, Monero, and Ripple cryptocurrencies. Here's how:
Step 1. Navigate to the Atlas VPN pricing page.
Step 2. Choose the subscription plan that fits your needs best.
Step 3. Enter the email address you want to use to manage your Atlas VPN subscription and select Cryptocurrencies under the payment methods.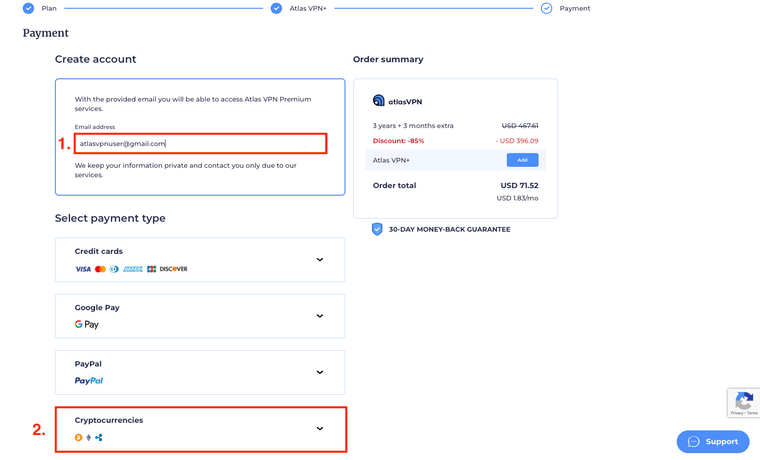 Step 4. Click Continue to CoinPayments.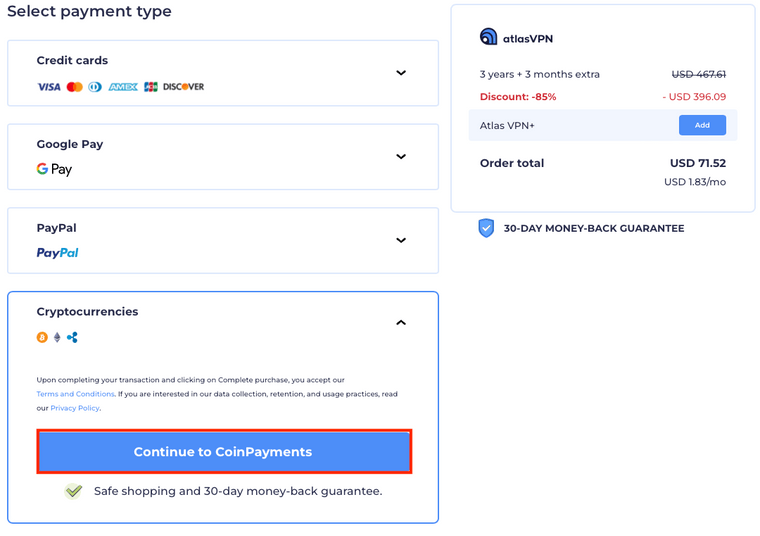 Step 5. Choose the cryptocurrency you want to make the payment with and fill out the billing information. Next, click Complete Checkout.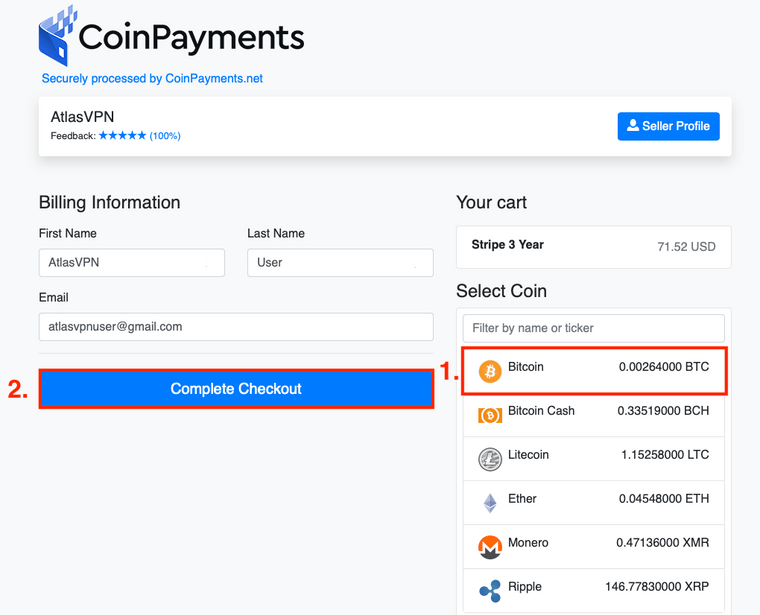 Step 6. Follow the CoinPayments instructions to complete your purchase.

Congrats! Now you can enjoy the many benefits a VPN can provide when trading crypto and beyond.
How does VPN benefit crypto users?
As cryptocurrencies are getting more and more popular, they have become a target of cybercriminals who look for ways to take advantage of crypto holders. A VPN can help you tackle some of the cyberthreats lurking online while also improving your privacy and anonymity. 
Whenever you connect to a VPN, your traffic is sent through a private VPN server where it gets encrypted, making it harder for hackers, snoopers, and other malicious actors to intercept. This way, a VPN adds a layer of security to your crypto transactions and other cryptocurrency-related activities, as well as everything else you do online.
What is more, your original Internet Protocol (IP) address is traceable and can reveal your city, ZIP, and area codes, as well as your Internet Service Provider (ISP). A VPN enhances your privacy by hiding your real IP address and assigning you a new IP from a private VPN server, so the crypto websites you visit and your activities there cannot be traced back to you. 
Finally, certain content and websites might not be available for you when traveling, especially if youre going to highly restricted countries. A VPN can help you overcome geo-blocks and enjoy the crypto websites from your home region.
In addition to all of the above, Atlas VPN premium subscription provides you with advanced features that will supercharge your online privacy and security even further, including Shield for blocking malicious websites, ads, and third-party trackers, Privacy Pro servers that ensure the highest level of anonymity online, and many more.