Kids are facing cyberbullying with 66% of parents being unaware
Edward G. | March 18, 2020
According to data investigated by Atlas VPN, children who use the internet excessively are more likely to become depressed. With kids spending 8.5 hours on screen per day, risk of cyberbullying, loneliness, and anger issues arise.
Recently, four thousand US households completed a survey on parental control over social media consumption. Questionnaire findings show that 34% of parents limit the time spent on social media. Scientists at BMC Public health found that using social media for longer than 2 hours per day increases the risk of cyberbullying.
The Department of Guidance and Psychological Counseling shows a growing concern on the excessive use of social media and gaming. Limiting the use of screen time can help your child avoid detrimental psychological experiences. Research shows that many Gen Zers face cyberbullying. However, it can happen to anyone.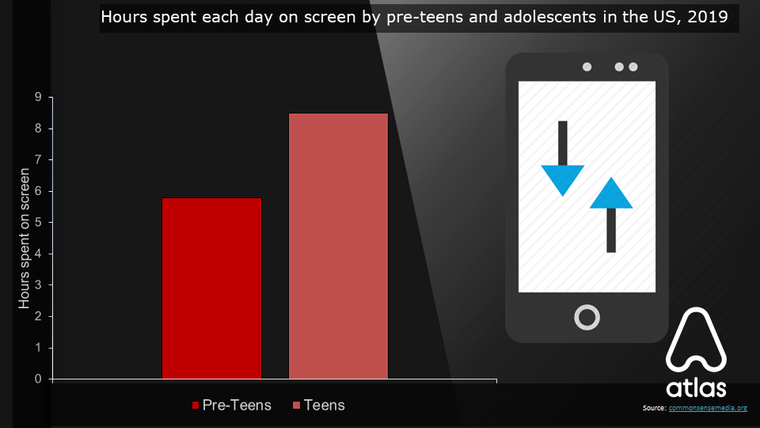 It is also worth pointing out that only 49% of parents limit their children's time spent playing games. And, parental control only gets worse when it comes to internet consumption. According to the survey, 40% of respondents show concern about their children's activity on the internet. In comparison, only 34% of parents monitor the usage of social media.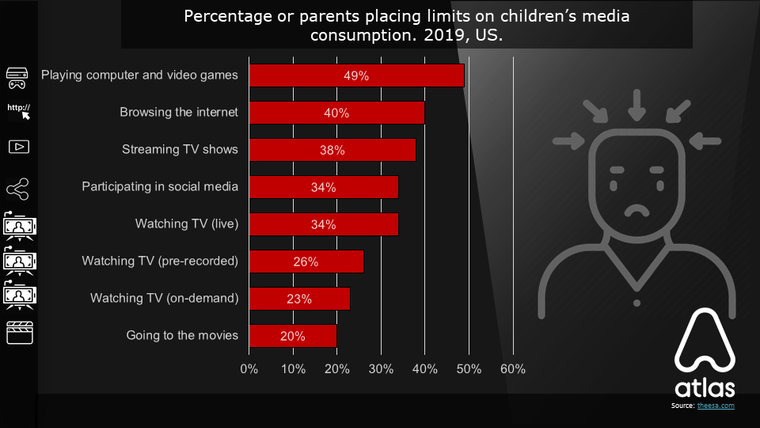 Furthermore, the Department of Guidance and Psychological Counseling has revealed that internet addiction and loneliness increase the risk of gaming disorders among teens. Excessive gameplay on the internet leads to adverse outcomes in academic performance, family communication, and even physical health.
Social media treats your child as a product
In December 2019, research revealed the demographics of most popular social media platforms. It appears children up to the age of 19 prefer TikTok (37.2%) over Snapchat (18.8%) and Instagram (18.8%). With over 30 million active monthly users in the US, TikTok grows in popularity.
In contrast, 35,8% of people between the ages of 20 and 29 prefer using Snapchat over TikTok (26,3%) and Instagram (30,5%).
Finally, respondents ages 30-39 use Tik-Tok two times less frequently in comparison to teenagers. All in all, data confirms that the biggest part of TikTok's user base is teenagers.
Originally TikTok is an app created to share lip sync videos, short vine-like comedy and dancing ideas. However, more and more adults find out that this social media platform may not be as innocent as it seems at first.
According to Frannie Ucciferri, reporter of commonsense media, TikTok is not appropriate for kids. It is easy to find people wearing revealing clothing and dancing suggestively to lyrics that include swearing and sexual hints. Avoiding such platforms is one of the rules when it comes to internet safety for children.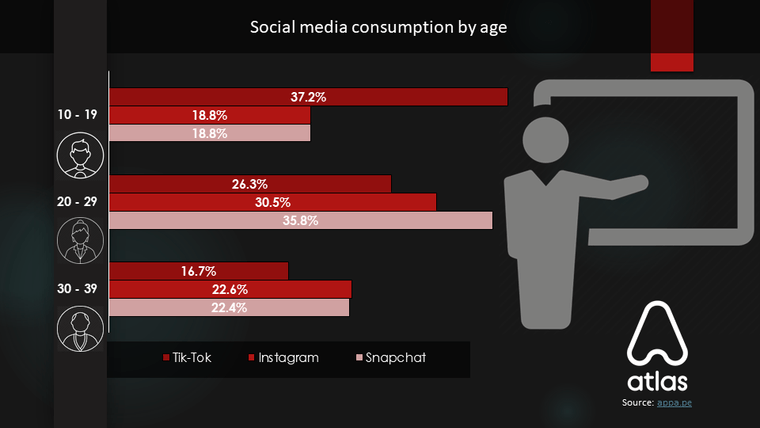 After violating the online privacy protection act for children, the Federal Trade Commission led TikTok developers to create a separate space for children. The separate area of newsfeed would only bring up curated and clean videos where children cannot comment, search, or post their videos. However, to bypass the restrictions, your child only has to enter a date that would meet the prerequisites for creating an unrestricted account.
In 2019, social media ad revenue for the US market accounted for over 33.7 billion USD. Social media platforms mainly benefit from gathering customer data and then using that data to target ads based on user demographics. The journal of consumer affairs published an article in 2019, describing children as vulnerable consumers to online marketing.
The report argues that children are powerless against marketer-controlled online contexts. Pre-teens and adolescents have little knowledge of online marketing. Combined with specific developmental deficits, this makes children vulnerable to online marketing.
Children's consumption goals of social media are mainly to fit in and to develop a symbolic identity. Brand integration has a profound potential to incorporate into their personalities, influencing children's social consumption goals.
Internet addiction and cyberbullying
Scientists at UCLA's Brain Mapping Center have found that "likes" on social media activate the "reward" part of the brain. Teenagers experience high activity in that part of the brain while growing up. This partially explains why they enjoy social media so much.
"Likes" act as pooling data of how much other people like them. This leads to kids losing their true identity. Studies revealed that frequent use of social media for self-reassurance leads to prior depressive symptoms—constant personal comparison to lives and pictures of peers damages self-esteem and body image.
Scientific reports also show that excessive use of the internet is similar to psycho-addictive substance dependence. Internet addiction leads to sleep problems, anxiety, depression, and stress. Other researchers have found that usage of social media for more than 2 hours has increased the potential of being cyberbullied among young teens.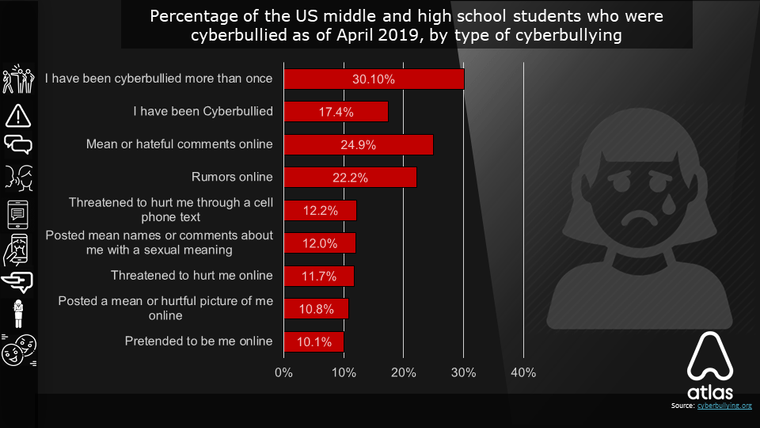 Statistical data on cyberbullying shows that in 2019, every fourth middle and high school student encounters mean or hateful comments about them online. Almost as often, teens experience rumoring. 17.4% of respondents admit they have experienced forms of cyberbullying in the past. Other common cyberbullying methods include threatening via cell phone (12.2%), posting mean comments with a sexual suggestion (12.0%), threatened of being hurt via online messages (11.7%), or posting hurtful pictures online (10.8%).
Rachel Welsh, COO of Atlas VPN, expressed her concern on social media damage to children, saying:
"Being a helicopter parent is not a good idea, but leading your child towards a safer internet usage is a must. There are many browser add-ons that can be used to block or limit time on certain websites. Moreover, parents should consider limiting screen time to 2 hours per day."
Research suggests that cyberbullying and school bullying are directly related together. Troubled mind and distress caused by various forms of victimization have been found to result in suicidal thinking. Visit Cyberbullying official webpage to find measured advice on how to identify and help your child overcome cyberbullying.