Google Registers a 350% Increase in Phishing Websites Amid Quarantine
Edward G. | March 26, 2020
According to data gathered and analyzed by Atlas VPN, the number of phishing websites spiked by 350% amid COVID-19 quarantine.
As Google reports it, the number of registered phishing sites has been snowballing over the last three months. Phishing is a technology cybercriminals use to gather personal information via deceptive e-mails or, in this case, websites.
Atlas VPN gathered the numbers of phishing websites detected by Google over the last three months and compared them between one another.
Back in January, Google registered a total of 149,195 active phishing websites. In February, the number increased by 50%, being 293,235 of phishing websites registered. Comparing March to January, the number of total phishing websites spiked by 350%, hitting a number of 522,495 in total.

Thousands of malicious coronavirus-related websites are created daily
The increased usage of the internet gives cybercriminals more opportunities to scam people into downloading malware or purchasing fake products. Ever since the outbreak of COVID-19 started, cybercriminals have been exploiting it by creating malware-infected maps.
But now, hackers are taking it even further by building scam websites and tricking people into purchasing fake cures, supplements, and vaccines. A cybersecurity company named RiskIQ started scanning new coronavirus-related domains by tracking keywords like covid, virus, vaccine, or pandemic.
Some of the websites are legit, yet the vast majority are scams. RiskIQ publishes the results daily.
Over 300 thousand of suspicious coronavirus-themed websites detected
As the report shows, the number of new coronavirus-related websites hit over 29 thousand on March 11. During the next week, the number was fluctuating but it was surpassing 10 thousand new COVID-19 sites. There was, however, an exception: on March 16, RiskIQ bot detected only 177 new websites.
On March 21, the number of suspicious domains dedicated to coronavirus peaked drastically, hitting a total of 67,053. Although the next day, it decreased to over 46 thousand new websites and more than 26 thousand the next day, the numbers are still concerning. In total, RiskIQ detected 316,523 suspicious coronavirus-themed websites, counting from March 9 to March 23.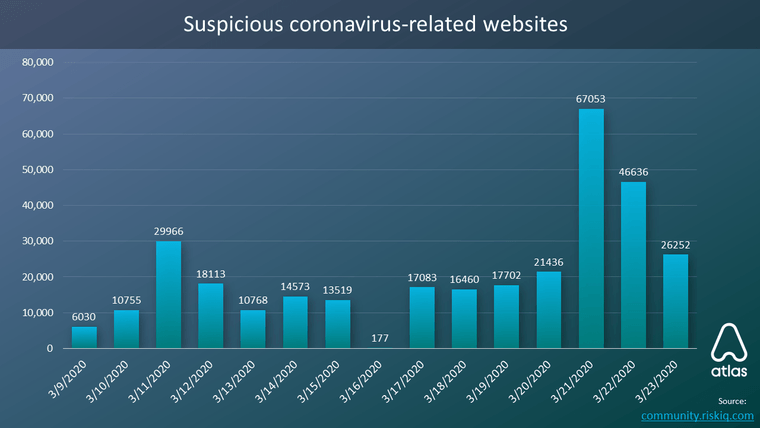 It should be noted that the numbers are not necessarily accurate. RiskIQ is only scanning a list of coronavirus-related keywords. Therefore, the total number of new domains might be even bigger.
For the past couple of days, ZDNet was checking some of the domains at random. Although they were able to find a few legit sites, the team reported nine of ten were either malware-infected or dedicated to trick people into buying fake supplements.
Stay alert online
With more and more people forced to stay home during quarantine, internet usage is higher than usual. The Washington Post shared an article with people posting reports of their drastically increased screen time over the last week. The number over phishing sites has also skyrocketed during the pandemic. The COVID-19 crisis also showcased that the US sends much more spam emails.
Eric K. Singhi, a doctor from Houston, tweeted that his screen time increased by 185 percent to an average of 8 hours and 32 minutes a day. In comparison, adults spend about 3.5 hours a day using the internet on their mobile devices on average.
Hence, hackers are taking advantage of people spending more time on the internet by trying to steal sensitive information through phishing websites. Creating these websites is just one of the many ways cybercriminals are exploiting the COVID-19 situation. Later, we would also report 2 million phishing sites detected by Google in 2020.
EDITOR'S NOTE: it appears, there was a miscalculation, and the number of phishing websites had actually increased by 250%, not by 350%.