47% Americans Find Identity Theft Worse than Murder, New Report Shows
Anton P. | March 02, 2020
According to the latest Atlas VPN research, the US residents are way more worried about being hacked than getting murdered. Is such a severe concern for identity theft valid? Indeed, the record-high data breaches provide a reason for these worries.
In 2019, hackers exposed a total of 7.9 billion private records. Compared to 2018, the number of breaches increased by 33%. 2019 was also the year of someone in the US becoming an identity theft victim every 2 seconds. Health services, retailers, and public entities were suffering the most.
Data compiled by Atlas VPN shows that 67% of Americans are afraid of being a victim of identity theft, while only 20% are scared of being murdered. Getting burglarized (43%) and being a victim of a terrorism act (29%) are also two of the respondents' top concerns.
The survey was carried out through the second half of 2019. People who participated in the study were from the United States, 18 years and older. In total, there were 1,526 respondents.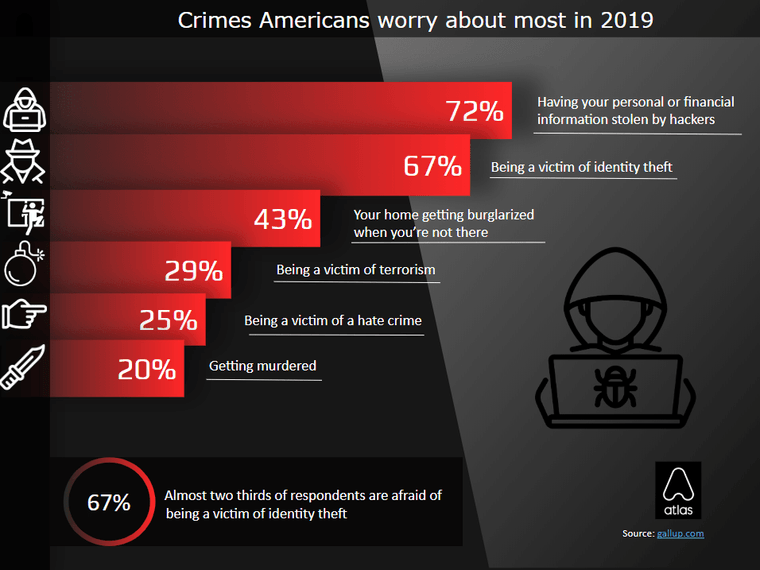 As many as 1 in 3 people frequently worry about identity theft. Also, 32% of respondents stated that they think about identity theft occasionally, while 18% are rarely concerned. Only 15% of respondents never think about this crime. In comparison to getting murdered, 47% believe that identity theft is a bigger issue.
Some experts suggest that 2019 was the year of data and 2020 will be the year of privacy. Thus, it is no surprise that new privacy products, such as mobile VPNs or password managers, are getting popular and more demanded among the users.
Smartphone users worry the most
Identity theft recovery time depends on the type of fraud that occurs.
The University Of Southern Carolina carried out a survey to find what are the largest data privacy issues. Results show that mobile users are most worried about getting their identity stolen (72%). More than half of the mobile internet users are afraid of location tracking (53%). The same number of users expressed concern for not knowing how organizations collect their personal information online.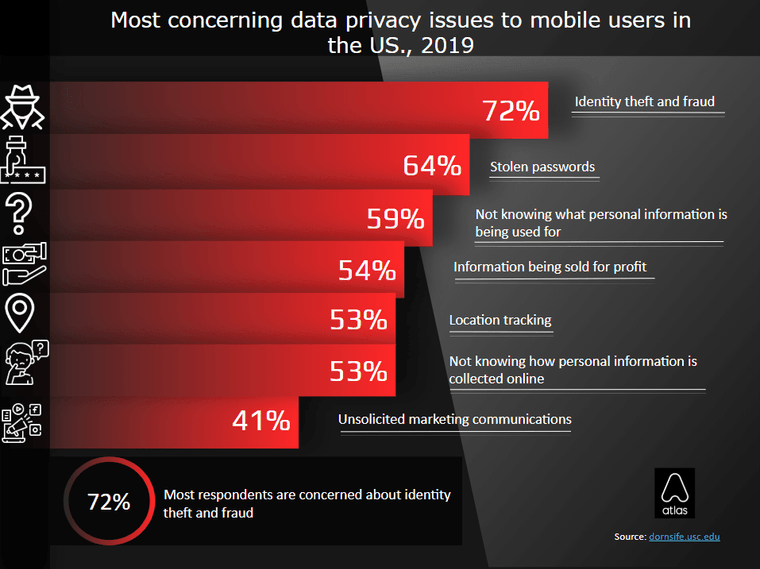 Typically, hackers invade systems with the primary goal of getting profit. The provided research confirms such claims. The most common identity theft complaint in the US is credit card fraud (32%). Other complaints include loan or lease fraud (14%), phone or utility scam (11%), bank fraud (7%), and employment or tax-related fraud (6%) cases.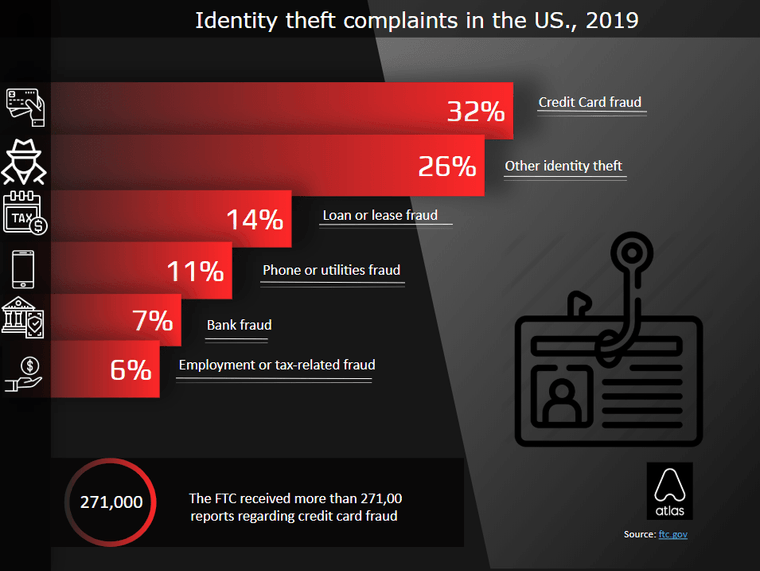 Compared to last year, credit card new account fraud increased by 88%. On the other hand, tax fraud decreased by 29%. Also, in 2019, almost 1 in 10 people lost money to imposter scams. People in Kansas and Rhode Island suffered the most identity theft incidents in 2020.
The number of hacking cases also depends on the time of the year. The tax-return season is beginning, which means the number of identity theft cases will increase rapidly. If a criminal steals your Social Security Number (SSN), they can file a tax return form and receive your refund. Internal Revenue Service (IRS) governs tax-related identity theft cases. The two main ways the IRS informs you about possible tax identity theft are:
IRS will send you a notice they have received the filled out tax-return form twice
IRS will contact you if they detect a suspicious tax return using your SSN
Atlas VPN tip: If you have been a victim of tax identity fraud, visit IdentityTheft.gov to start your recovery plan.
How the US tackles to combat the growing data privacy crisis?
With the increasing number of data breaches in the US, consumers are finally getting help from the government. So far, the US is the only democracy in the Organization for Economic Co-operation and Development (OECD), without federal data protection laws.
However, just recently, Senator Kristen Gillibrand proposed a Data Protection Act (DPA). The purpose of this act is to create and enforce data privacy and security rules. Privacy Enhancing Technologies (PETs) would help in getting the results. PETs allow companies to reduce or eliminate the storage of consumers' data. Similar to GDPR in Europe, this act would also protect consumers from companies that exploit users' data for corporate benefit.
Not only does the likelihood of becoming an identity theft victim depend on your behavior, but it is also influenced by the state you live in. According to the Federal Trade Commission, if you live in Georgia, Florida, or California, you are most likely to be a victim of identity theft. Meanwhile, results show that Wyoming, Vermont, and South Dakota have the lowest rate of identity theft reports per capita.
Things to know about the Data Protection Act
If the Data Protection Act passes, a dedicated agency will start safeguarding Americans' private data. It would be appointed a director by the president and confirmed by the Senate for a 5-year term. The agency will be able to penalize companies that do not meet the regulations stated in the act.
Currently, there are no specific recommendations for the size of fines. And, it's not clear how the agency would apply them or how the collected money would be re-distributed.
The agency would have three primary missions:
Provide US residents with more control over their data
Provide privacy protection to all citizens
Prepare the American government for the digital age
It seems, the US government finally understood the scope of cybersecurity issues. Experts in the field - Cybersecurity Ventures,  predict that cybersecurity damage will reach $6 trillion by 2021. Although major changes will take a long time to take effect, the Data Protection Act is a step towards a more secure tomorrow on the internet.
The fear of cyber attacks and identity theft extend worldwide. For instance, our other research indicates that Danes and Australians fear cyber attacks more than COVID-19.
To start your safe and secure journey online, get Atlas VPN for your mobile devices.