37% of Businesses Expect to Grow by Investing in Cybersecurity
Edward G. | April 07, 2020
According to Atlas VPN investigation, 37% of business advisors believe that cybersecurity is a top priority investment for firms in 2020.
In the 2020 RIA Sentiment Survey, over 300 advisors answered questions regarding their company's investment choices. Participants received emails in which they were asked to share their views on the economy, their firm's goals, and the overall outlook on the market they are in.
Most respondents agree that one of the most significant risk factors for tech companies is data breaches and ransomware or DDoS attacks.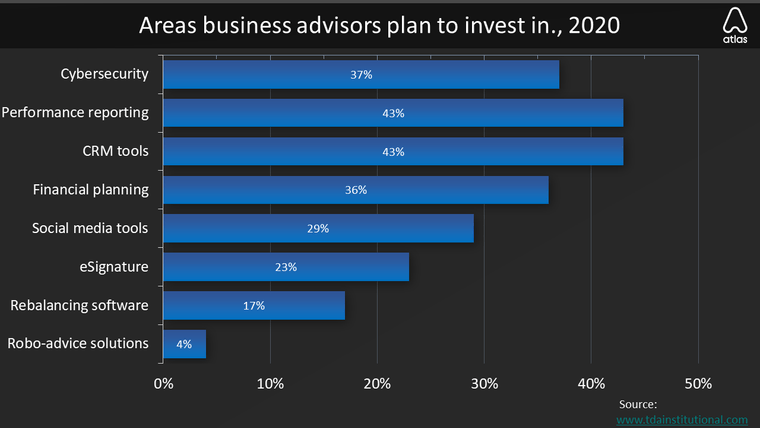 Not only do companies suffer financial losses due to ransom demands or deleted data, but one of the biggest negative impacts on the firm is the loss of reputation. Hence, over 37% of participants named cybersecurity as one of the top priorities in their organization in 2020.
Only performance reporting technologies (43%) and Customer Relationship Management (CRM) tools were named as more important than cybersecurity when planning the firm's budget.
In many businesses, cybersecurity is non-discretionary spending. Meaning, if the company had a bad quarter, they might reduce the headcount or shift their marketing strategy. However, the digital security budget remains the same.
The firm's internal systems have to stay secure no matter the financial performance. Investors believe that it is one of the last places managing directors will be willing to pull funds from.
FBI estimates that in 2019, cyberattacks cost businesses $3.5 billion. Corporations filled out 467,361 individual complaints in total regarding hacker invasions.
Most companies outsource their network security management since fiding talent in the field is difficult. Currently, there are over 3 million job vacancies available in the cybersecurity sector.
Cloud security is the main focus for most businesses
To aid in the decision process on which security areas executives should focus on, Flexera carried out a global survey. In their Flexera 2020 CIO Priorities Report, they asked 302 C-suite executives (CIOs and senior IT executives) from companies with at least 2,000 employees what are their firm's cybersecurity investment priorities.
Firstly, CIOs stated that their teams plan to shift more and more towards cloud services as well as AI in 2020. Subsequently,  83% of organizations will increase investments in cloud security in 2020. Out of these, 47% are planning significant increases in cloud security investments.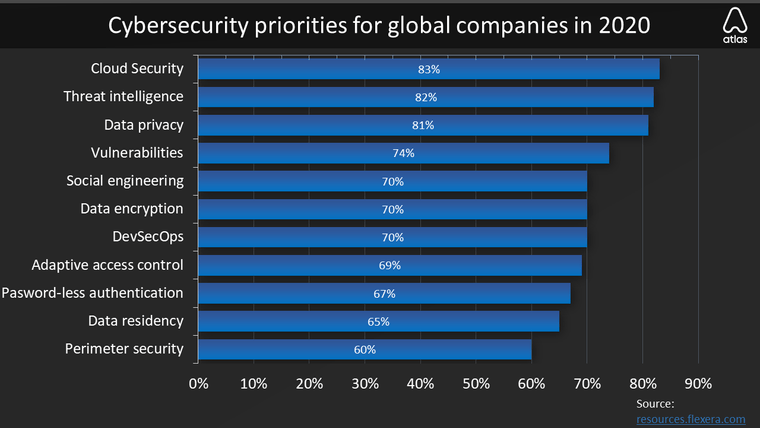 The number one spot, in terms of security priorities, goes to cloud security services.
In short, cloud security refers to the protection of the company's data from theft, leakage, and deletion. Throughout 2019, not a week went by without a significant data breach in healthcare, technology, or the financial sector.
Threat intelligence and data privacy are trailing closely behind. Over 80% of executives plan to increase the budget in these areas. Even 40% of businesses will spend significantly more on data privacy protection in 2020 than the year before.
Moreover, data encryption services, such as Virtual Private Network's, take the 6th place in terms of importance. Over 70% of companies will shift more of their budget towards securing their networks via encryption. Even small companies need VPN protection to ensure that no data leaks occur.
Taking all of this into consideration, increased spending on cybersecurity seems to be on the radar for most companies. Governments also seem to invest more in cybersecurity to combat the growing cyber threats.