Worst apps for privacy users should delete
Anton P. | August 18, 2022
The worst apps for privacy include some of the most popular smartphone applications. Hit social media platforms, messaging services, and seemingly harmless weather apps are possible offenders. 
So, Google Play Store and App Store are minefields not merely for potentially malicious apps. Profit-oriented companies control even the most seemingly trustworthy apps. 
Hence, they exploit all legal or undefined opportunities for financial gain. Unfortunately, this income can come at the expense of your privacy and data. Furthermore, some means for profit might be unethical even if legal. 

App privacy red flags 
Most invasive apps might be the ones you use every day. For instance, social media highlights its ability to bring people together and build communities. However, members of popular social networking platforms struggle to understand their true motives. 
App terms of service and privacy policy. These documents can reveal many warning signs. However, companies hire lawyers to write or revise these policies. Thus, the complexity of such documents is high. It might take hours or days to decipher language or implied conditions of overly lengthy terms of service. While it might not be a red flag for privacy, confusing privacy policies prevent users from fully understanding the terms they agree to. 
App monetization. Understanding how an app supports its development is crucial. For instance, free applications might rely on advertising, personalized or not. 
Transparency report. Some companies have a legal obligation to hand in information when governments request it. If a service does this, users should know how these procedures work and how they affect their privacy. A recent Twitter transparency report highlighted the increasing number of government requests for data. 
Implicit agreement. Explicit consent means that you deliberately agree to a particular condition. For instance, you go to settings and enable ad personalization. However, some of the worst apps for privacy take certain actions as implicit consent. So, users might not even realize they initiate changes by using apps in a particular manner. 
App permission requests. It is natural for applications to request certain permissions for functionality purposes. However, some require too much, like access to microphones or cameras when their operation does not rely on them. In other cases, even apps with justifiable reasons for certain access privileges should only get them when in use. 

User information apps might collect 
The worst apps for privacy can have a formula for data collection. So, the same or similar details get collected, with minor irregularities. Data harvests also relate to app functionalities. 
For instance, shopping apps can gather insights into preferred items and common purchases. On the other hand, fitness or health trackers can have access to highly confidential details.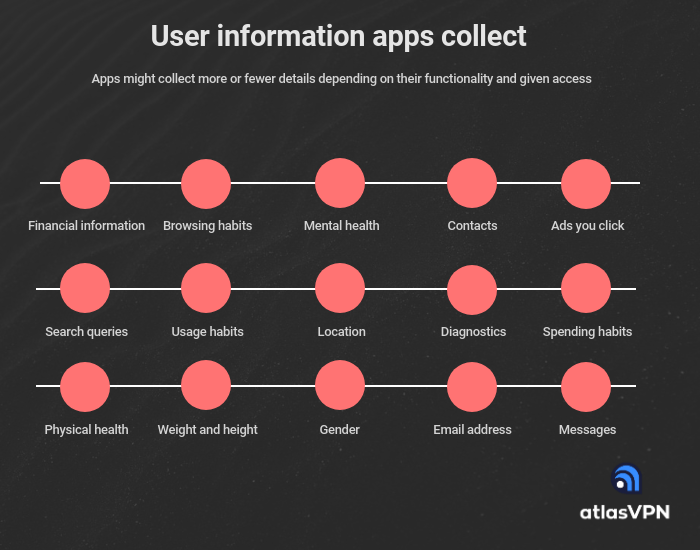 Worst privacy apps by category 
Any app has the potential to be invasive. However, some tend to have a tighter grip on users' identities and habits. 
Social media 
Social media stands as the biggest offender when it comes to the worst apps for privacy. Of course, users willingly hand in specific details about their lives like email address, phone number, location, name, photos, relationship status, etc. 
However, social media can read between the lines, drawing from your activities, messages, liked pages, and other behavior. For instance, such invasive apps can learn your sexual orientation, race, religious or political beliefs, employment, mental health, and more. 
So, let's judge these apps' privacy according to the personal details frequently collected by apps.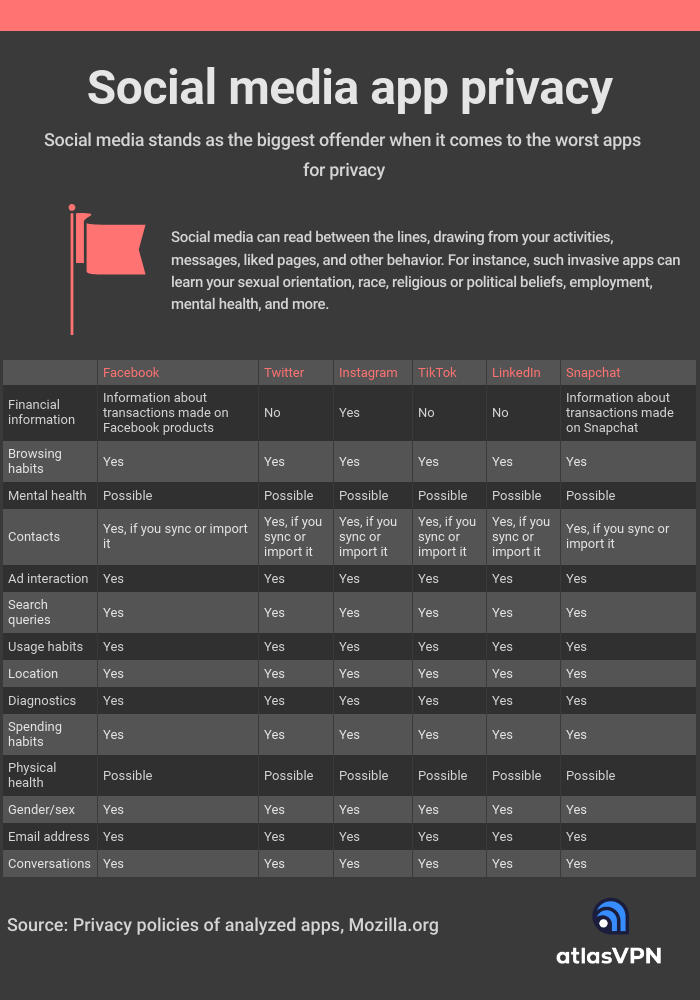 Food delivery apps
Food delivery apps can be the worst apps for privacy. They deal with highly confidential details like bank information and home addresses. Additionally, many apps offer deliveries from pharmacies, which can reveal users' physical health or mental conditions.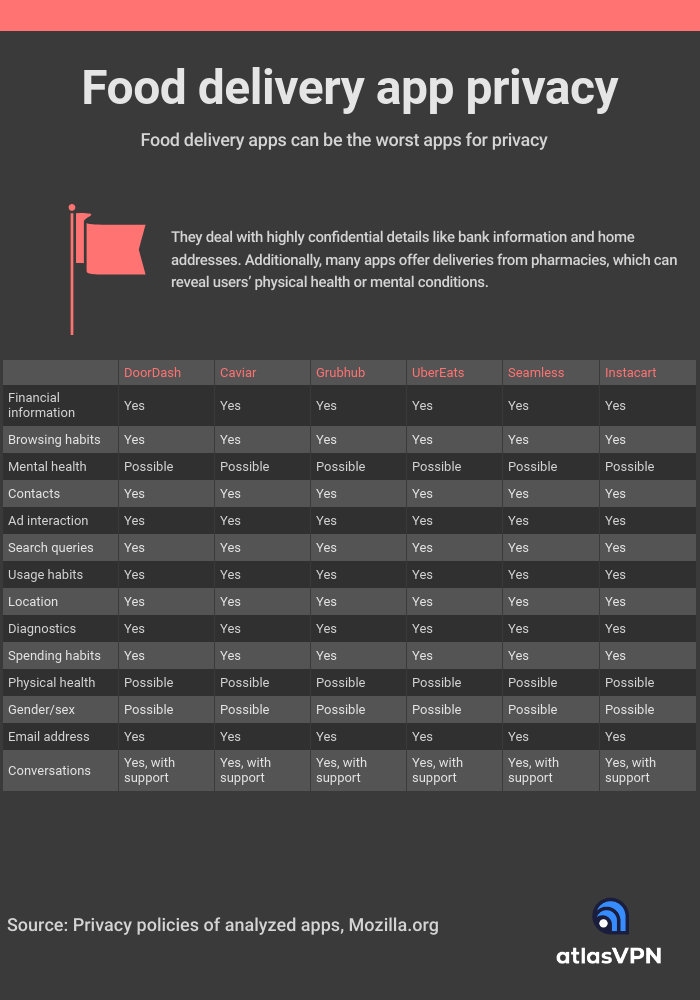 Mental health and period tracker apps 
Information related to users' health is the most confidential and valuable. Currently, privacy protections on mental health apps are debatable, with many sharing data with third parties. 
So, they can monetize users' most intimate and precious information, mental states, and feelings. Furthermore, some mental health providers also mention keeping user chat transcripts. 
If possible, steer clear of mental health apps in the name of privacy and security. 
When it comes to period trackers, they can be useful for tracking menstrual cycles and reproductive health. However, ever since the US Supreme Court overturned Roe v. Wade, such apps have been a source of controversy. They contain multiple trackers, which means that details about your reproductive health are far from private. 
In the end, mental health and period trackers apps are some of the worst apps for privacy. They deal with incredibly private information, which deserves a high level of privacy protection. Sadly, many products on the market fail to prove their capability to walk the quality line. 
Dating apps 
Looking for love online means you reveal a lot of details about your personality, physical attributes, and interests. These types of apps fall in the worst apps for privacy category as they require a lot of sensitive information. Additionally, some apps have even outed people or revealed their medical conditions.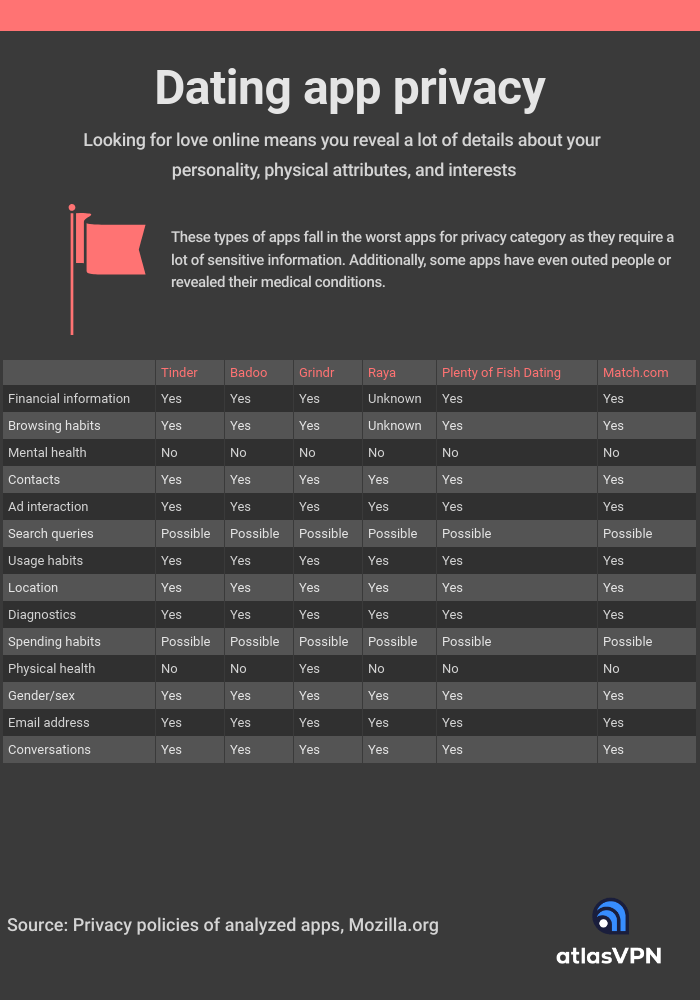 Instant messaging and video call apps 
Recently, Facebook provided conversations on Messenger between a mother and daughter to the police. In fact, many instant messaging apps have an obligation to follow authorities' requests for data. You can read such conditions in services' transparency reports.
The best privacy option would be to use a communication app featuring end-to-end encryption. Preferably, apps should enable it by default.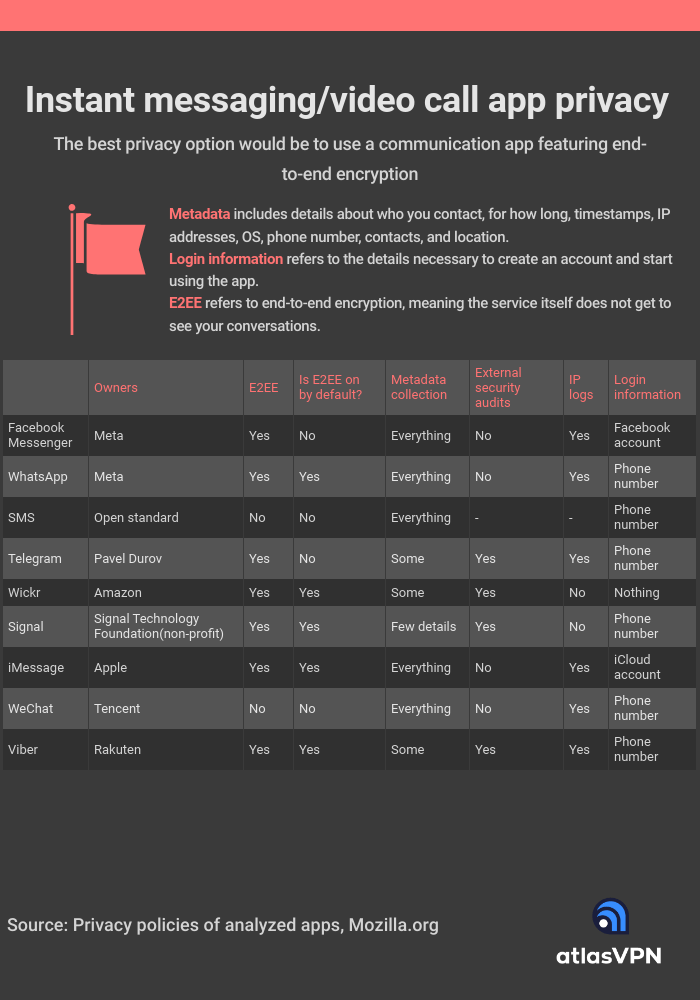 Which apps share their user data with third parties? 
The worst apps for privacy have a tendency to share user information with a number of partners or advertisers. It is crucial to know which entities get to receive your data. 
However, the explanations can be rather vague, without mentioning specific partners or companies. Therefore, people might have no idea where their data ends up transferred.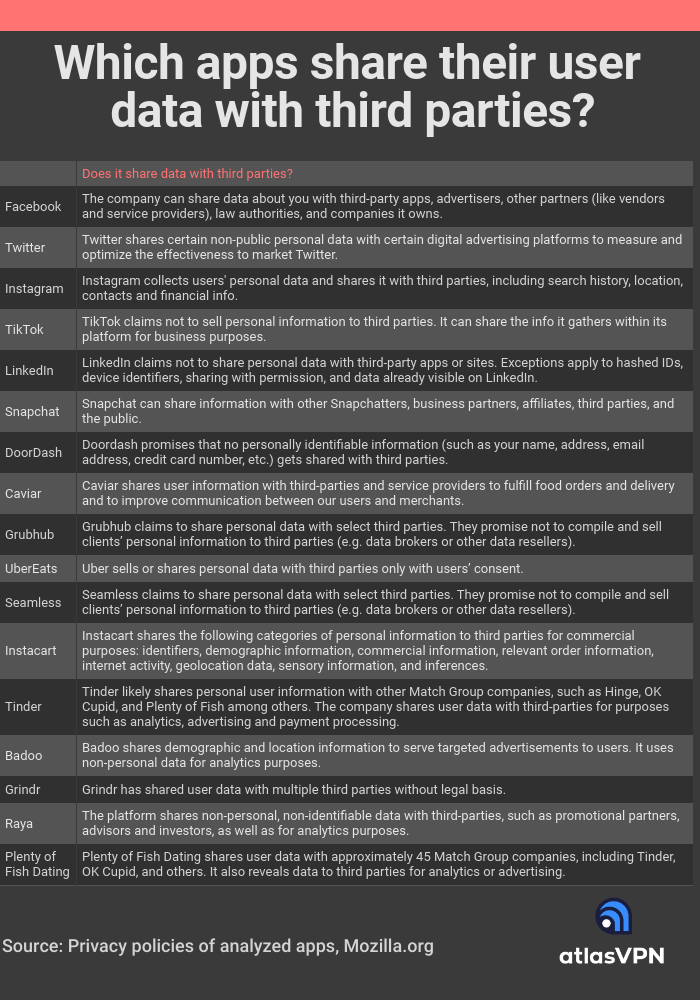 Picking a privacy app 
Trusting that an app will deal with your privacy respectfully should not come blindly. It is essential that you read privacy policies presented to you. Specifically, pay attention to the details a company claims to collect. Then, read on how it uses these gathered insights. 

Besides using apps that offer better privacy conditions, you can manually apply additional layers of protection. For instance, browsing in incognito mode is an excellent way to minimize certain types of tracking. 
Furthermore, connecting to VPN servers adds more privacy and anonymity to your activities. It can stop IP-based tracking, and traffic encryption minimizes opportunities for snooping.