What's new: Atlas VPN's Q2 2023 update
William S. | August 03, 2023
We always strive to provide the best possible experience for you, and that's what we focused on in our last quarter. From refining user experience to introducing new functionalities, here's your quarterly update on everything that went down in the second quarter of this year.

Improved user experience
Technology should make our lives simpler, not harder. That's why we've been hard at work to make your experience with Atlas VPN even better. 
Firstly, we tweaked the design of our server list in the iOS app, making it easier than ever for you to find and connect to your preferred server. 
We've also redesigned the macOS tray menu and brought it to Windows devices. Now, you can conveniently navigate our app right from your laptop's menu bar.
Under maintenance server notification
Can't find your favorite server? Occasionally, our servers may undergo brief maintenance, causing them to be temporarily unavailable in the server list. To keep you informed about our server maintenance activities, we've added notifications on both iOS and macOS platforms.
Our TV apps got a boost
If you are a smart TV user, you might like the new Auto-Connect function on the Atlas VPN Android TV app. It's a small but super convenient feature that will enhance your smart TV experience. Now, your TV will automatically connect to Atlas VPN whenever you turn it on. Pretty neat, right? 
There are several Auto-Connect settings to choose from. The Fastest Connection option connects you to the least loaded server location, ensuring the best possible connection speed. The Nearest Location setting connects you to the server location closest to you, while the Preferred Location allows you to connect to the location of your choice.
We've also expanded language support on Amazon Fire TV, making it more accessible for our users across the world.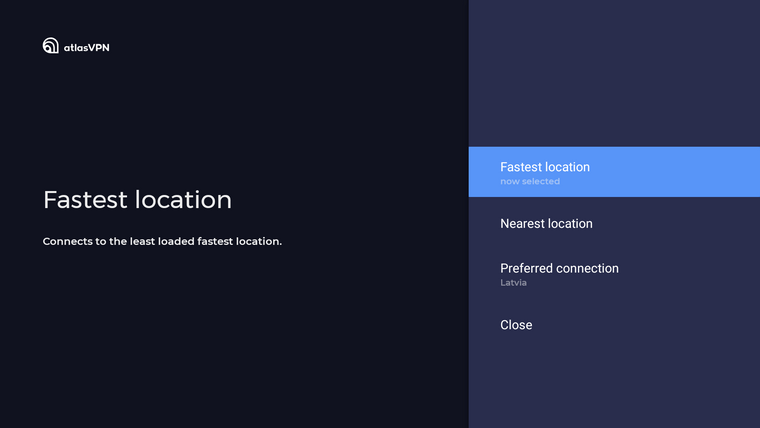 New payment methods and currencies
In Q2, we also introduced several new payment methods for more flexibility and convenience. Users from the Netherlands can now use iDeal for quick and secure payments, while those in Germany have the option of Sofort. Also, we've added KakaoPay as a payment method for our users in Korea. 
Additionally, we've expanded the range of accepted currencies, making it easier for users from the United Arab Emirates and Indonesia to complete payments with their local currencies.
That's all for now, folks
Let's keep it short but sweet. Thanks for sticking with us, and we'll be back briefly with more exciting updates for you!