What's new: Atlas VPN's Q1 2023 update
Ruth C. | April 26, 2023
Welcome to the first quarterly update of 2023 for Atlas VPN! It's been an exciting start to the year for our team as we continue to improve our product and expand our reach to users worldwide. In this post, we'll take you through our latest feature releases and industry achievements. So, don't miss out on all the action, and read on to find out what we've been up to.

Introducing 10Gbps servers
In February, we launched brand new 10Gbps servers, enabling us to handle more users without experiencing any network congestion. With this upgrade, you can enjoy even faster and more stable connections when browsing, streaming, downloading, or gaming with Atlas VPN – even during peak traffic.
Right now, Premium users can choose from 10Gbps servers in Amsterdam, the Netherlands, and London, United Kingdom locations. Nonetheless, we want to broaden our 10Gbps network coverage to as many locations as we can in the future.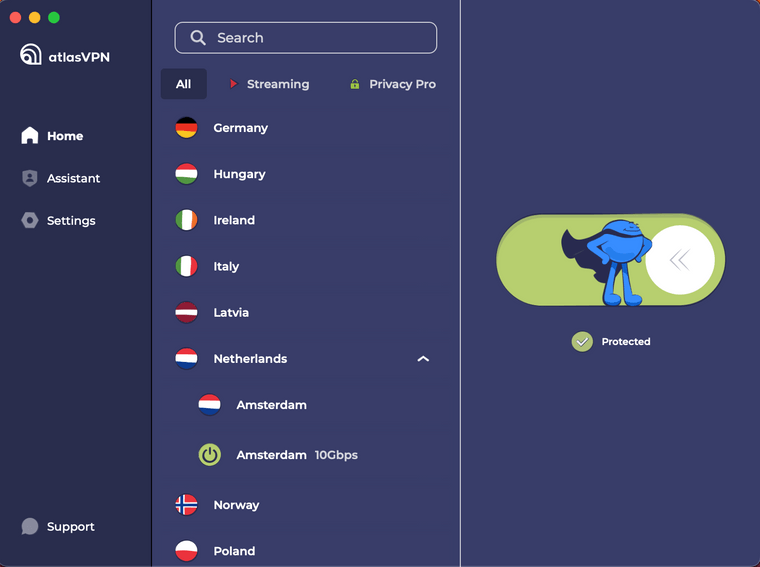 Four new server locations
In addition to the 10Gbps servers, we introduced four news server locations in Turkey, Taiwan, Thailand, and South Africa. That means you can now connect to Atlas VPN servers located on six continents across the globe! All of the newly added servers are available with our Premium subscription. 
Auto-Connect and Quick-Connect on macOS
While Quick-Connect and Auto-Connect functionalities were already available for our iOS, Android, and Windows users, we introduced them to our macOS app in the first quarter of this year. 
With Quick Connect, you can choose a default location you want to be connected to every time you enable Atlas VPN. There are five Quick Connect options. 
The Fastest Connection option will connect you to the least loaded server location, resulting in the best possible connection speed. The Nearest Location connects you to the server location closest to you. The All option presents you with all the available locations so you can select the one that suits you best. Additionally, you can choose a default connection location from our specialty servers. Depending on your needs, you can pick from MultiHop+, SafeSwap, and Streaming options. 
Meanwhile, with Auto Connect enabled, the VPN is automatically connected to the preferred Quick-Connect location after the app is launched.
VPN Pause functionality
VPN Pause is a handy little feature we introduced to our Windows application. It allows you to pause your VPN connection for a short while and reconnects you automatically after a set time (you can choose between 5 minutes, 15 minutes, 1 hour, or select a custom time).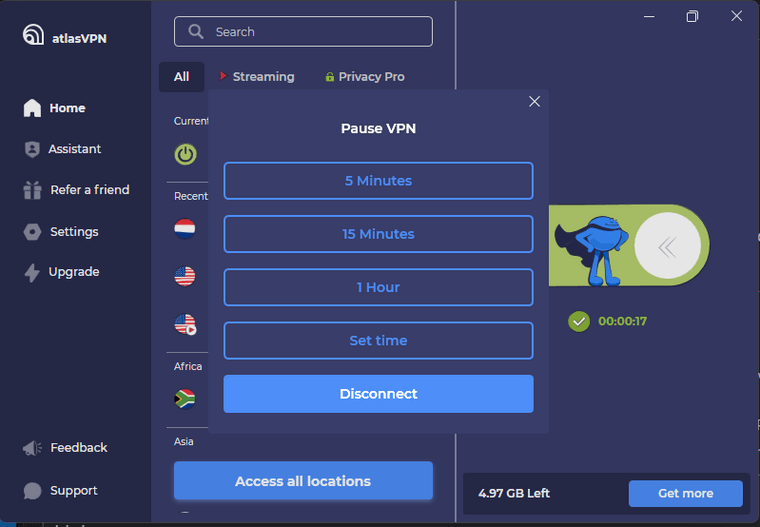 Buy Atlas VPN now, pay later 
We take pride in providing one of the most affordable quality VPN services in the market. That's why we introduced a new subscription option in March that allows our users to buy now and pay later, giving them the flexibility to secure their digital lives on their own terms. With the Klarna payment option, users in the United States can purchase the premium Atlas VPN subscription by splitting their payments into several installments.
Other tweaks and improvements
Besides the new features and functionalities, Atlas VPN apps also underwent many minor tweaks and improvements to make them even more convenient for our users. Some of the more notable ones include the Recent Connections section, which was added to the main server menu on Android and macOS apps (this functionality was already available for Windows and iOS users), so you could save time when connecting to the same location as the last time you used VPN.
In addition to our Windows, iOS, and Android apps, Atlas VPN macOS and Android TV apps were also made available in 10 languages to make them more accessible to a broader range of users. 
Atlas VPN among the top 3 VPN services
During the first quarter of this year, Atlas VPN had an achievement worth celebrating! We were recognized in TechRound's VPN53 awards for being one of the most innovative VPN companies. Out of 53 VPN services nominated for the award, we placed third! We're excited to continue improving our service and providing our users with the best possible VPN experience. 
Speaking about improving our service, we have more updates coming your way in the near future. Expect more payment options, languages, and enhanced user experience. Stay tuned for more!