US sends 32x more COVID-19 related spam emails than Russia
Edward G. | April 22, 2020
According to data extracted and analyzed by Atlas VPN, coronavirus-related spam emails sent from the US outnumber spam emails from Russia by more than 32 times.
Currently, scammers are abusing the pandemic to lure unsuspecting victims into their phishing scams. Mostly, these email subject lines contain keywords such as "Coronavirus Vaccine," "Covid-19 supplies discount,"  "Order Corona Kits," "Covid-19 Vaccine and treatment," or similar.
Atlas VPN compiled and analyzed data from a cybersecurity company RiskIQ, that provides daily COVID-19 internet threat reports. These reports contain information on coronavirus-related spam emails. They are detected by searching for keywords such as COVID-19, coronavirus, pandemic, etc.
The countries Atlas VPN chose to analyze in the report are the twelve countries with the largest total number of sent spam emails from April 11 to April 18, 2020. There was no threat report on April 12, so only seven days were analyzed.
COVID-19 spam emails during the last week
According to the records, scammers sent out at least 862,959 spam emails from the twelve countries displayed in the chart. Out of these emails, 32,514 contained an executable file attachment. During these seven days in April, threat actors sent out an average of 123,280 malicious emails per day.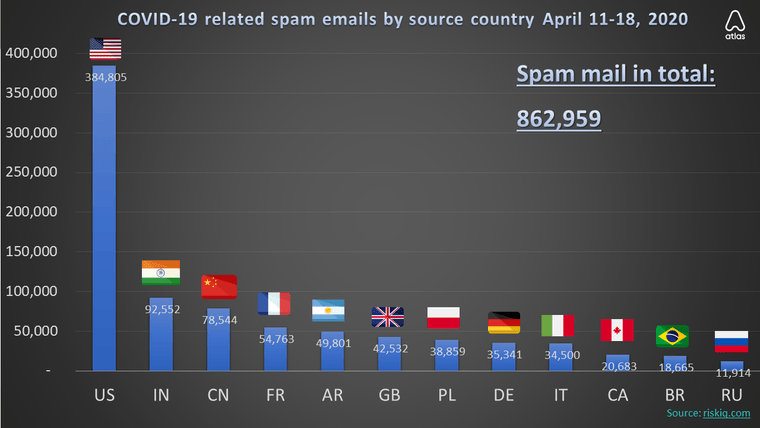 Over 384,805 of COVID-19 related spam emails originated from the US. In other words, nearly 45% of phishing threats come from the United States alone.
In contrast, only 11,914 such emails were sent from IP addresses located in Russia. This means that Russia, with its 144.5 million population, only sent out around 1.4% of spam mail.  Comparatively, scammers from the US send out 32 times more emails than Russian ones.
Trailing behind the US, India, and China were the second and third largest spam senders with 11% and 9.1%, respectively.
The remaining nine countries sent out a total of 307,058 digital phishing emails. In other words, they comprised over a third of the total volume of spam emails.
Scam artists usually send out an email promising to offer pandemic-related items, where people will have to download and execute a file to see detailed information on how to order the product. Such phishing scams have always been on the radar, but they started to rise due to the pandemic.
Throughout April 11-18, 2020, the most common spam email subject line was: "Protection From Corona Virus With Immunity Oil." It does seem like an obvious scam, but the fact that these emails continue piling up means that some people do fall victim.
COVID-19 spam emails in the last 30 days
Glancing at a wider perspective, from March 17 to April 18, threat actors sent out over 4.18 million emails. On average, that amounts to over 139 thousand emails per day.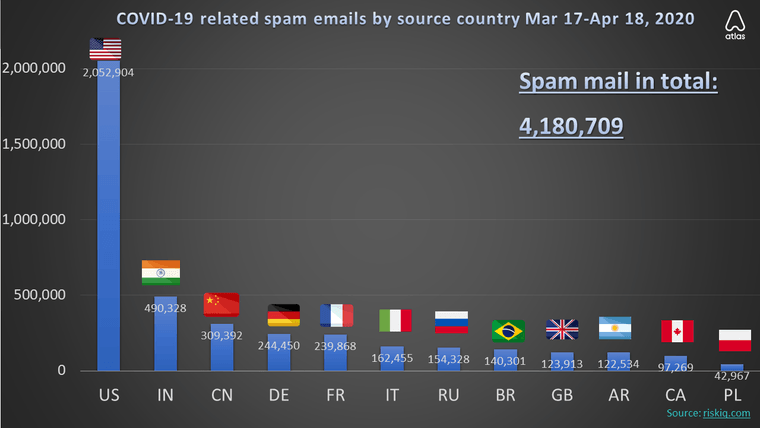 The US is still in the first place by leaps and bounds. Out of more than 4.18 million emails sent, scammers with IP addresses in the United States account for 49%.
Throughout this period, phishing or other malicious emails sent from Russia comprised nearly 4%. Meaning, there was 13 times less spam mail from Russia than from the US.
The second and third place still goes to India and China, with combined 799,720 emails or 19% of the total number of letters in the 30-days.
The remaining nine countries combined sent out a total of 1,328,085 malicious emails in one way or another related to the pandemic.
Financial losses due to COVID-19 scams
To figure out how many people got affected by scams related to the coronavirus in 2020, The US Federal Trade Commission (FTC) compiled all fraud complaints in the US related to COVID-19. Numbers show that from January 1 through April 15, US consumers registered a total of 18,257 complaints, over 10,000 of which were reports of fraud.
FTC reports that over 46% of fraud victims claimed a consequential financial loss, totaling $13.44 million. The median fraud loss per person was $557.