One in four Russians downloaded VPN apps in H1 2022, a global study reveals
Edward G. | August 17, 2022
The latest updates for the Global VPN Adoption Index created by Atlas VPN reveal that in H1 2022, VPN downloads reached 215 million. The most significant shift in the market was recorded in Russia, where nearly one-fourth of the population downloaded VPN services.
Prior to H1 2022, VPN penetration in the Russian Federation was somewhere between 3% to 9%. However, in March 2022, the Russian court banned Facebook and Instagram, labeling its parent company Meta as "extremist".
These restrictions caused an unprecedented upshift in VPN demand. The VPN usage in Russia reached record heights, totaling 35 million downloads in six months, putting VPN adoption at 23.94%. In other words, nearly 1 in 4 Russian citizens downloaded a VPN application in H1 2022.
On a similar note, Ukraine made it to the tenth position of VPN adopters globally, with 4.2 million downloads and a 9.62% penetration rate.
The VPN Adoption Index by Atlas VPN overviews country-by-country VPN statistics and explores why VPNs are so prevalent in those nations.
VPN adoption refers to the percentage of the country's population that downloaded VPN applications in the given period. The data for the analysis was extracted from Google Play Store and Apple App store using Sensor Tower and App Tweak services.
The table below shows the top 10 countries by VPN adoption in H1 2022.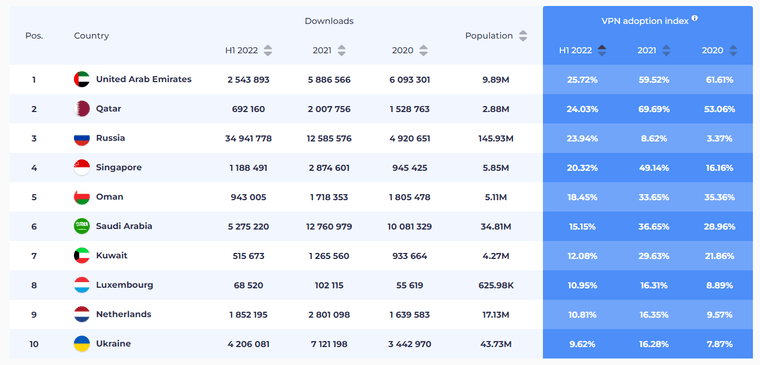 Just like in 2021, five out of ten spots are occupied by Arab countries. The reason is simple — Arab governments employ stringent internet restrictions.
Governments in Arab countries tend to ban content that goes against Islam's moral values, the primary target being pornography websites. On top of that, ISPs censor politically sensitive topics, mainly criticism of the government.
But the restrictions do not end there.
For example, Voice over Internet Protocol (VoIP) services like WhatsApp, Telegram, and Skype are banned in the United Arab Emirates, which is one of the reasons why expatriates who wish to contact their families turn to VPNs as a solution.
Qatar is no exception, as the government prohibits political criticism, pornography, any homosexual and lesbian-related content, online dating sites, and privacy services.
Unlike other Gulf countries, Oman's citizens are also subject to strict personal monitoring. Authorities follow conversations on mobile phones, e-mail, and even internet chat groups.
The Saudi Arabian government is not much different but also restricts a wider range of media, including newspapers, books, television, films, and all online content.
In a nutshell, VPN adoption closely correlates with internet restrictions. Whenever one or more major services get banned in a country, VPN usage soars.
Ukraine joins the top VPN adopters
It's possible to add another reason why VPN adoption grows in a country — political tensions and war.
Being nowhere close to the top ten VPN adopters in 2021 and 2020, Ukraine reached the tenth spot with 4.2 million downloads and 9.62% penetration in H1 2022.
While everyone is aware of the tragedies happening in Ukraine, not everyone considers that the war is happening in the digital sphere.
On February 15, a large-scale wave of DDoS assaults brought the defense ministry, army, and Ukraine's two central banks, PrivatBank and Oschadbank, down.
A week later, on February 23, another DDoS assault knocked offline various Ukrainian government, military, and bank websites, even though the outages were shorter this time.
According to the UK government and the US National Security Council, the assault was carried out by the Russian Main Intelligence Directorate (GRU).
Online warfare causes citizens to think about their online safety, which is why they turn to VPNs.
To see where your country ranks in terms of VPN adoption, please head over to our interactive VPN adoption page here.