Is Mobdro safe to use?
Anton P. | November 13, 2020
Mobdro, a free Android app, recently gained the spotlight as a sweeping hub of live streams. It intends to evolve into a one-stop hangout, assembling video streams in one convenient space. Thus, it is a viable alternative to visiting dozens of independent providers. However, Mobdro contains some suggestive connotations that might not sit well with consumers. Learn its full story in the form of conditions and overall quality assurance before joining this service.
What is Mobdro?
Mobdro could classify as a dynamic search tool, integrating live streams available on the web. Hence, it is a gatherer, uniting content from dozens of hosts into one locale. Consumers appreciate such centralized services as they no longer need to switch between portals to find live streams.
There seem to be suggestions that Mobdro operated as a freemium service. However, the current model provides all of its features for free. Like many free services, it relies on advertisements for revenue.
The placement of ads is unclear, but they might occasionally interrupt live streams. Mobdro combines streams from the web and has no on-demand content. If ads seem disruptive, you can give Mobdro idle resources, which means dedicating device power to Mobdro.
Furthermore, occasional glitches might present videos that have already gone offline. A savory cherry on top is that this service might not render streams in high quality. Hence, you might choose to watch the original host instead.
The ad-free option
Apparently, Mobdro supplies an ad-free service without enforcing any monetary fee. The emphasis on monetary is quite essential here. Users can agree to dedicate an allegedly small portion of their idle devices' resources. The service borrows users' resources to sustain their servers. It excludes mining and storage purposes as potential actions.
However, owners of Mobdro are not forthcoming about resource relocation. The only definitive statement is that a device joins a peer network, which can suggest several things. Furthermore, there are technical drawbacks to dedicating CPU, such as charging your phone more frequently.
Mobdro borrows resources only when devices have enough battery capacity, use Wi-Fi or Ethernet connection, and are idle. Overall, the use of the resources needs better outlining. However, when in doubt, go for the ad-enabled option, even though they might pop up during live streams.
Mobdro idle resources option is exactly groundbreaking. A number of services follow similar tactics. In some cases, you can gain passive income by sharing your internet connection with others. However, when the purpose of Mobdro idle resources is unclear, it is better to skip this option.
Is Mobdro legal?
Mobdro is perfectly legal as tuning in to watch free streams has no evident implications of illegal behavior. Nonetheless, the seemingly benign attire is not consistent throughout the service. For one, the service strictly proclaims to have no control over the content it presents. So, it does not warrant that the streams will follow any quality or safety guidelines.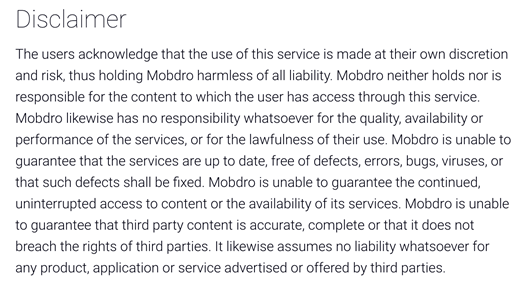 Hence, you might stumble upon copyrighted content that renders the service illegal. As long as you deliberately choose to stream only free and legal streams, you should be fine. However, Mobdro's lack of liability with the streams it broadcasts raises some questions over its reliability.
Should you use Mobdro?
Due to the number of streaming-focused scams, it is natural for communities to be skeptical and cautious. The issue with Mobdro is its lack of quality guarantees and clarity when it comes to giving Mobdro idle resources. Constructing a secure streaming environment is key. If people do not get the sense of authenticity, they label such services as fraudulent streaming domains.
Furthermore, Mobdro does not present exclusive content. Instead, it broadcasts streams from other providers, making it not necessarily essential. You can simply visit the official provider such as YouTube and watch the stream there. However, if one-stop for all your streams is a tempting notion, follow a few security precautions:
Pay attention to permissions the app needs. Like any other app, Mobdro will insist on several questionable privileges. It might access your contacts, geo-location, and storage. So, if you have already agreed to these requirements, you can quickly change them via Android settings. Giving Mobdro idle resources in exchange for ad-free viewing is also a questionable trade.
Stick to ads. While advertisements are somewhat irritating, they might be your best option in this case. Of course, the service asserts that the borrowed resources are not for mining purposes. However, since the intentions are not clear-cut, you should skip it.
Watch free and legal streams. Some content might immediately strike you as copyright infringement. Avoid such streams and stick to those that you have no issue identifying as safe.
Install a VPN. A VPN performs many tasks to protect your digital identity. Mobdro knows your IP address and might use this information for delivering customized ads. Atlas VPN will help you conceal it, especially from suspicious parties exploiting the live-stream-hub for malicious plans.
Mobdro shut down in 2021
Despite once being an attraction for users, Mobdro officially closed its doors in 2021. A three-year investigation by the Spanish police and Europol pushed the service to shut down. The reason? Mobdro provided illegal streams to a broad range of live TV and video content. 
So, we strongly encourage you to pay close attention to the next streaming service you encounter. When in doubt, go for reliable and entertaining streaming platforms instead.