Introducing Atlas VPN Data Breach Monitor
Ruth C. | June 08, 2021
Data breaches have become an everyday reality. In 2021 alone, almost 6 billion accounts were affected by data breaches.
Using a VPN already helps protect your online activity and data by encrypting your internet traffic so that hackers and snoopers can't see what you are doing online. However, we have added another feature to further enhance your online security  — Data Breach Monitor.
What is Data Breach Monitor?
Data Breach Monitor is a security feature designed to track any data breaches related to your online accounts. It automatically scans leaked databases and informs you of any past or recent breaches where your personal information was exposed.
With Data Breach Monitor, you can review where and when security breaches occurred, as well as what type of data was leaked. The leaked data can include anything from credentials such as email address, username, and password to social security numbers or other types of personal information. 
The Data Breach Monitor will also notify you of any newly detected leaks so that you can change your credentials and take other necessary steps to protect your account immediately.
This feature is currently available in Atlas VPN's iOS, Android, macOS and Windows apps.
How to monitor the security of your online accounts?
Data Breach Monitor makes it easy to track the security of your online accounts. Follow these seven steps to get started: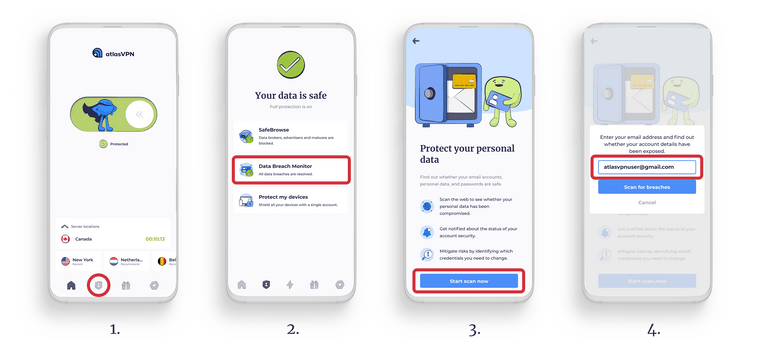 Step 1. Navigate to the Assistant section of your Atlas VPN app.
Step 2. Then, select Data Breach Monitor.
Step 3. Click on Start Scan Now.
Step 4. A pop-up window will appear asking you to enter the email address you want to protect.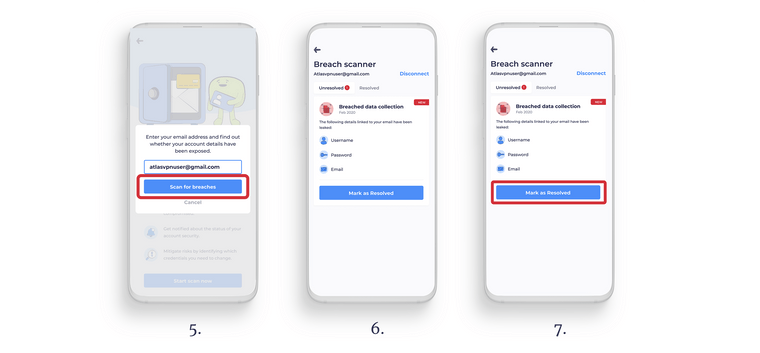 Step 5.  Once you do, click Scan for Breaches and give it a few seconds to search through leaked databases for information that matches yours.
Step 6. If any of your accounts associated with the email address have been breached, all breaches will be listed for you in the Unresolved folder.
However, if you're one of the lucky few whose personal credentials haven't been leaked — congratulations, you have done a fantastic job protecting your online accounts — you don't need to take any further steps for now.
Step 7. Once you've updated your credentials for a breached account, you can mark that security breach as resolved.  From then on, it will only show up in your Resolved breach folder.
All Atlas VPN users can take advantage of the Data Breach Monitor feature to enhance their online security. However, our Premium users can enjoy full access to the feature with no limits to how many email addresses one can monitor, so you can protect all of your online accounts.