How to delete Facebook account for good
Edward G. | September 15, 2020
The verdict to delete Facebook account is one of the ways to retire from social media. Sometimes, we all feel the urge to throw in the towel because of the exaggerated representation of lives.
Not matching the glorified standards is not the only reason to abandon Facebook, however. The tech giant continues to be the central topic in the digital space, violating our privacy rights.
If you feel fed up with feed-scrolling addiction, here are the ways to delete Facebook accounts permanently.
Why do so many people choose to delete Facebook accounts?
Besides the natural dislike for social media, there are many reasons to delete Facebook accounts. The global evacuation began in 2018, but the Cambridge Analytica scandal is just the tip of the iceberg.
Facebook made headlines since day one, and not all of them were positive. And while it has tried to introduce new features and changes to its privacy, people can still be skeptical.
Even the news feed feature caused an outburst: people did not want to broadcast their lives. As the initial outrage settled down, the news feed became Facebook's unique mark.
However, it continues to trouble experts. Advertised as a medium for free speech, Facebook applies algorithms to control the content presented on them. So, while giving the voice for some, it blatantly ignores others.
Some turning points for Facebook
In the early days, Facebook included a feature that automatically informed users' friends of their recent purchases. Just another ingredient that disappeared from the mix in the long run.
However, the first blow to the way Facebook manages users' data came in 2011. Allegations varied from allowing third-party apps to scrape private data to sharing information with advertisers.
After that, Facebook agreed to perform an independent privacy evaluation every year for the next 20 years.
In 2014, Facebook's data analysts performed a psychological experiment. The mood-manipulation research controlled test subjects' news feeds to examine how presented stories affected their emotions.
People quickly deemed the experiment unethical, as Facebook did not gain users' consent to manipulate their accounts.
Now, we come full circle back to the events of 2018, which, by now, are notorious across the web. People gradually lost trust for the social media veteran after tracking users' actions and hiding a massive data theft incident.
Facebook attempts to climb back the ladder by introducing new practices for a more private social media dive. While Facebook focuses more on pleasing privacy-demanding users, let's consider the options to delete Facebook accounts. For those looking for a short break, we will visit the deactivation process as well.
How to delete Facebook accounts permanently?
To delete Facebook accounts, you should go to this address: facebook.com/help/delete_account.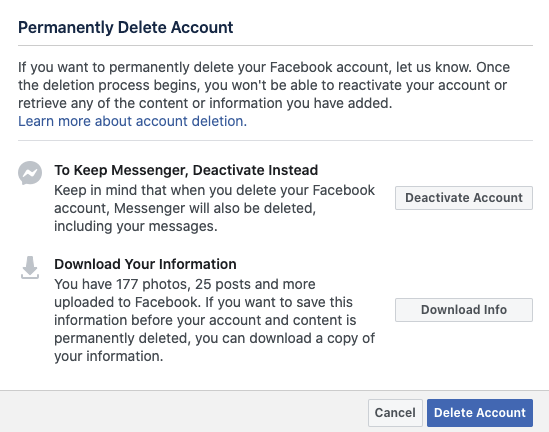 You will see several options. Facebook offers users to deactivate their accounts and keep using Messenger. So, you can click the "Deactivate Account" to take a break from social media. However, do not rely on Messenger to communicate with friends. There are many more secure options available.
Before hitting that button to delete Facebook accounts, you should be aware of the consequences. Users will no longer be able to log in to apps or services they linked to their Facebook accounts. So, you might need to consult independent services and recover the ones associated with Facebook.
Other than that, you can click the "Delete Account" button.
There is another route you can take to deactivate or delete Facebook accounts:
Select the triangle icon at the top right corner of your screen.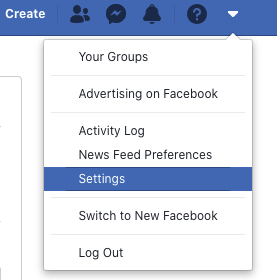 Choose "Settings."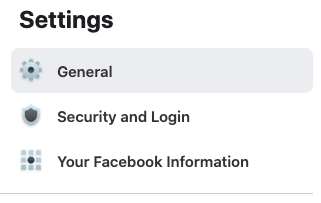 Navigate to "Your Facebook Information."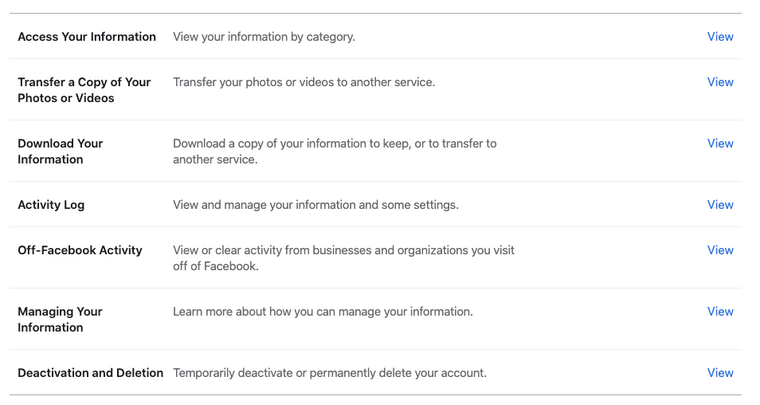 Pick "Deactivation and Deletion."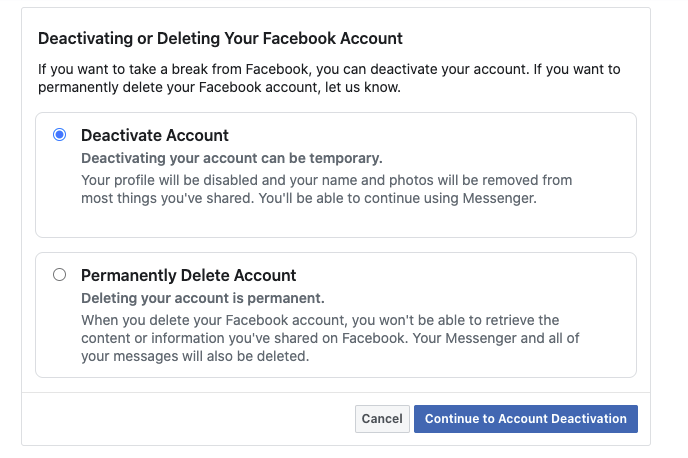 Mark the "Deactivate account" option. You can also delete your account via this menu.
To delete Facebook accounts, you will need to authorize the request by providing your password.
Need for more privacy in the digital space
By choosing to delete Facebook accounts, you put out one fire, but what about others? Stepping away from social media is a respectable choice from any standpoint.
However, it is not that easy to escape the surveillance of the digital world. To take advantage of the convenience offered online, you need accounts. Every account might work as a weak link in users' data demise.
So, do your part: avoid revealing too much information and reusing passwords. Anonymous connections are a way to evade marketers, ISPs, and governments monitoring or monetizing your data.