Fire Stick apps for TV streaming, browsing, and more
Anton P. | November 11, 2022
Fire Stick apps uplift your TV with free movies and TV shows, on-demand content, gaming streams, or media players. You can also install browsers like Amazon Silk for full-fledged browsing. 
Some might even jailbreak their Fire TV Stick, broadening their horizons on free apps they can install. However, users should only install reliable Fire Stick apps, preferably those that do not require jailbreaking. Thus, let's review which apps for Fire Stick are worth getting.

Benefits of getting Fire Stick for your big screen
Before exploring Fire Stick apps, you should know the advantages of revamping your TV with this device. 
What is a Fire Stick? It is a small USB device that transforms dumb TVs into smart ones. Non-smart TVs are the ones that do not connect to the internet. Such TVs are usually cheaper, and you can make them smart anytime with a media streaming device. 
A portable device you can take anywhere
Hotels might not upgrade their TVs, meaning older devices can offer limited support. Fire Sticks are incredibly travel-friendly; you will have no issue fitting them in your suitcase. 
You will get the home-cinema effect if the TV in your room has internet access and an HDMI port.
Alexa is here to help
Fire Sticks come with Alexa support, meaning you can make voice commands to your TV. The convenient assistant will save you time by automatically loading recommendations for streaming services, apps, or new movies. 
If you wish to transform your residence into a smart home, this streaming stick is an excellent contribution.
Jailbreaking for more Fire Stick apps
Your Fire Stick can accept third-party apps that it does not support naturally. Jailbreaking is an option, and it is not as ominous as it sounds. 
Essentially, you permit your Fire Stick to load apps outside the Amazon Appstore. Such applications come in the form of APK files. 
Remember these facts about jailbreaking the device for more Fire Stick apps: 
You can jailbreak your Fire TV Stick through Developer Settings and enable the Apps from Unknown Sources option. 
You should get the Downloader app from the Amazon App Store. 
Jailbreaking Fire TV Stick is not illegal. It is your personal property, and you can configure it how you like. 
However, remember that you are solely responsible for the consequences of downloading apps from unverified sources. 
Fake or little-known apps could take part in malicious activities or threaten your personal data. 
Hence, before jailbreaking your device to get more apps for Fire Stick, consider the potential dangers.
Intuitive and smoother user interface
Even modern smart TVs can operate with clumsy and old-fashioned interfaces. Besides being difficult to navigate, their app selection could feature a small portion of available software. 
For instance, Panasonic OLED presents fantastic quality and color rendering, but its interface is a nightmare. The only way to make the TV more flexible is to use a streaming stick.
Browsers: TV app for searching the internet
Browser options for Fire Stick are humble. Mozilla has also discontinued Firefox support for Amazon Fire TV Stick. You can try the following browser instead. 
Amazon Silk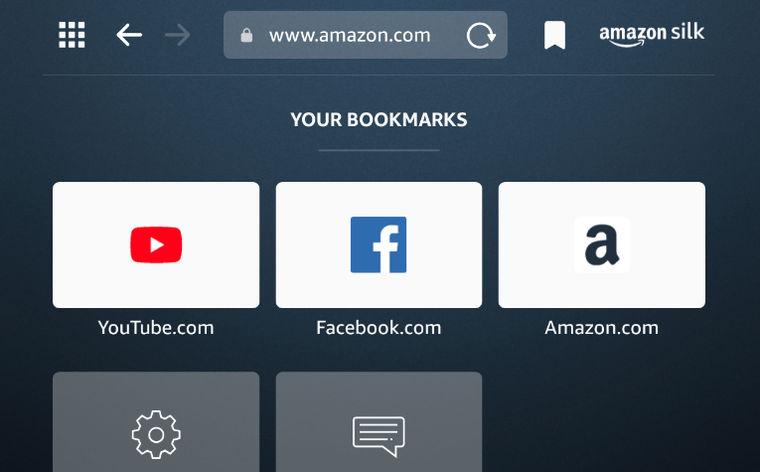 Price: Free. 
Compatibility: Fire Tablets, Fire TVs, and Echo Show devices. 
Amazon Silk works like any other browser but on Fire Stick. It lets you search the web, watch video content, or read the news. For the best experience, you might need a wireless keyboard and a mouse. 

Note: Amazon Silk might come as one of the pre-installed Fire Stick apps, or you can get it through Amazon App Store.
Fire Stick apps: streaming service options
Pluto TV for free live TV channels
Price: Free. 
Ad free: No, free users see ads. 
Better with an account: Completely free, but registered users can access more on-demand movies and TV channels. 
Pluto TV is one of the free apps for Fire Stick, allowing you to watch over 200 channels live. So, it mostly focuses on the live broadcasts of the most popular TV channels. 
However, it also supplies a regularly updated library filled with on-demand content like TV shows and movies. 
Remember that as a free service, Pluto TV will serve you online ads throughout streaming. 
Kodi: the free Netflix alternative
Price: Free. 
Ad free: Yes.  
Kodi is an open-source application letting you neatly organize your media library. Its add-ons also allow you to stream many video and audio content from the internet. Since Kodi is open source, anyone can create add-ons for its users. 
Thus, you can significantly customize your experience on Kodi. However, consider whether the user-produced add-ons do not constitute illegal behavior, like copyright infringement.
Amazon Freevee for free streaming

Price: Free. 
Ad free: No.
Amazon Freevee (formerly IMDb TV) is a free streaming service with many popular shows and movies. Instead of a monthly subscription, users will notice commercial interruptions. So, all you need is an account to start free streaming.
Vudu: pay for what you watch
Price: Thousands of movies and shows are available for free streaming. 
Ad free: No, free content features unskippable ads.
Rent-and-pay: Renting costs anywhere from $0.99 to $9.99. 
Most on-demand streaming Fire Stick apps require a monthly subscription. The price remains the same, even if you don't watch anything. Vudu takes a different approach and focuses on the rent-and-pay model. 
Instead of making recurring payments, you only pay for the titles you watch. However, Vudu is a freemium service, meaning that you will have the option to stream over 10,000 movies for free.
Fire TV apps for gamers
Twitch for gaming channels
Price: Free; some gaming channels might offer monthly subscriptions. 
Ad free: No.
This app for Fire Stick will surely become a favorite if you are into watching gameplay streams. You can enjoy live and recorded videos, interact with the community, customize your experience, and more. 
Besides viewing live gamers' streams in a more theatrical setting, you can tune in to explore other events. Twitch broadcasts esports and game-related events, giving you continuous access to entertainment.
Fire Stick as a gaming console
Besides traditional apps, Amazon Fire TV can substitute for a video game console. You can connect your PlayStation and Xbox controllers. Then, pick games from the Amazon store. 
You can explore various 2D and 3D games, such as:
Crazy Taxi. 
Sonic CD. 
Asphalt 8: Airborne.
Hungry Shark Evolution.
So, while Fire Stick won't replace professional video game consoles, it gives you a chance to play classic titles without them.
Fire Stick apps for getting the latest news
CBS News 24/7
CBS News is instantly available among your Fire Stick apps. It supplies around-the-clock coverage of breaking news worldwide. 
You can also explore the on-demand feature and catch recaps of previous broadcasts, documentaries, or original reporting. 
Users won't need to sign up for the service; all segments are free. If you like staying informed of the latest news, CBS News is the app for you.
News app (Amazon's free app)
However, CBS News only presents coverage and reports from CBS. If you like exploring several providers, this Amazon's News app is worth a try. 
You can watch reports from Bloomberg, Reuters, People, and dozens of other providers. Users can easily browse the content by topic or find trending stories. 
Furthermore, you can launch the News apps via voice command: Alexa, play the news.
More Fire Stick apps for your entertainment 
Besides applications to improve your TV, look into ways to improve privacy settings on smart TVs as well.
Audible is an app for Fire Stick that every reading fanatic should get. You can sign up for subscriptions or purchase individual audiobooks. 
TuneIn Radio gives you access to the most popular radio stations worldwide. You can browse through more than 100,000 stations. It has free, Premium, and Pro app versions. 
TED TV is suitable for anyone interested in watching thought-provoking TED talks on demand. All content is available for free. 
Shudder TV supplies horror and thriller titles. You will need a subscription to start watching. 
Peacock TV is a streaming service from NBCUniversal. It offers three subscription plans: Free, Premium, and Premium Plus.
Atlas VPN is compatible with Amazon Fire TV/Fire Stick. Thus, you can protect your streaming and browsing on TVs!