Cloud Security Stocks Outperform the S&P 500 by Over 37%
Anton P. | April 13, 2020
In the past few months, many stocks in the market experienced record-high losses due to the coronavirus pandemic. Yet, data gathered and analyzed by Atlas VPN shows that cloud security stocks not only held their own but, in some cases, saw significant growth.
An overview of the four selected cloud security stocks shows that, on average, share prices increased by 24.04% in 2020. In comparison to the S&P 500 (GSPC), which fell -13.65% year-to-date (YTD), that is a 37.69% difference.
Cloud security services are the main security measures companies take to protect their data. Interestingly, these companies are seeing exponential growth even when the stock market is crashing.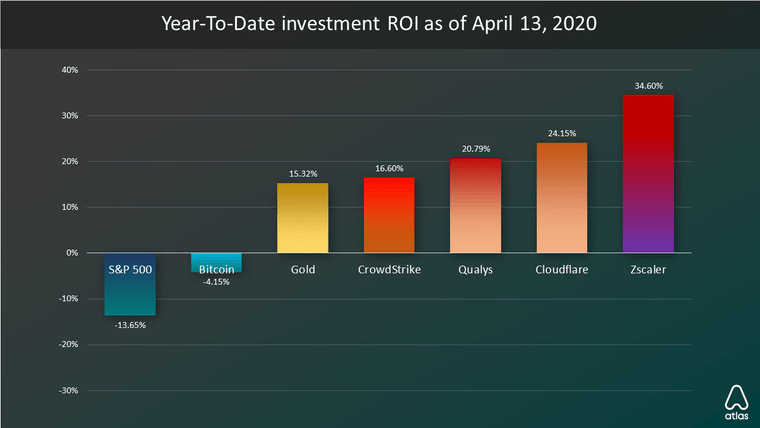 Looking at one of the best performers in the market, Zscaler (ZS),  their price per share jumped by over one third in just four months. Zscaler is a global digital security company that focuses on cloud-based web security.
They have not been on the market for long. The company went public on March 16, 2018, with the stock priced at $33. Now, their stock sells for $62.59. This is an 89.67% growth in just over two years.
Another similar example is Cloudflare (NET) - a cloud security giant that is responsible for securing the 2020 US elections. Before the significant price drop last week, their stock reached an astounding 36.19% ROI in 2020.
However, from April 6 to April 10, their stock declined by -12.04%. But even after the decline, Cloudflare can proud itself with more than a 24% increase in stock price during the pandemic.
Also, both CrowdStrike (CRWD) and Qualys (QLYS) stocks went up significantly in just the last four months. These cloud-based company's shares jumped by 16.6% and 20.79% respectively in 2020 year-to-date (YTD).
Interestingly, all of the aforementioned digital security stocks outperformed gold - an investment considered to be a safe haven asset in the times of a crisis. Usually, gold has an inverse relationship with the stock market. The more panic and less trust in the financial system, the better the gold prices perform.
To shed light on the situation, Raj Lala, CEO of Evolve ETFs, explains why investors are aiming towards cybersecurity stocks:
"Right now, its [cybercrime] costing the global economy about 3 trillion dollars. But it is expected that over the next five years that is going to double to about 6 trillion [dollars]. Cybercrime has evolved a lot over the last 15 years, where cybercriminals have become quite sophisticated in breaching corporate systems or even our personal data."
The figures mentioned by Raj Lala are based on the global cybercrime damages research carried out by Cybersecurity Ventures.
He continues to explain that it is a no-brainer to invest in cybersecurity stocks since the demand for these services will only grow in the future.
Cloud Security vs S&P 500 during the pandemic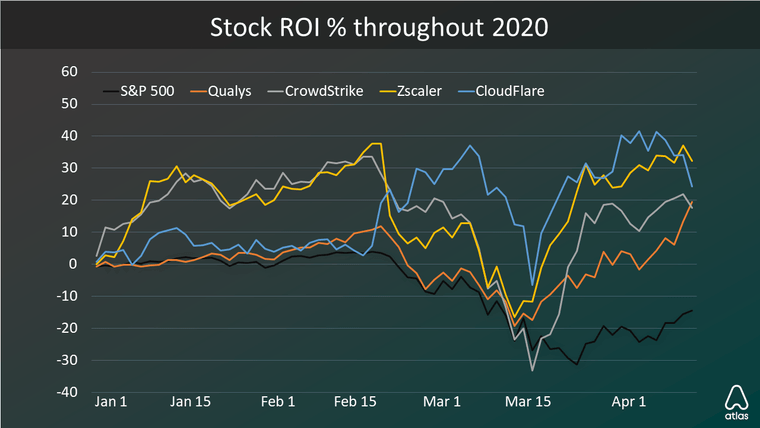 Here, the S&P 500 index is compared to a few of the most popular and innovative cloud security companies. Due to the pandemic, almost all stocks plummeted in the first half of March.
Yet, it has to be noted that cybersecurity stocks bounced back up relatively quickly. On April 1, all four stocks either came back to their 2020 price peeks or close to it.
This can be explained by the fact that many workers started working from home. Hence, companies had to protect their internal networks with cloud security services. Even if they already had these services, the bandwidth on their networks increased as well as the payments to the security company.
It seems that in 2020, most companies are aware of the dangers that overlooking cybersecurity measures can bring. Last year, not a week went by without a major data leak. Companies most likely figured out that the additional costs of cybersecurity outweigh the potential costs of a successful hacker attack.
To that point, studies show that after a data breach, companies share prices fall 7.27% on average. The same research found that not only do the stocks fall in the short term, but they continue underperforming in the market in comparison to their competitors without data leaks.
On the other hand, even after a record-breaking last week, the S&P 500 is still nowhere close to its share price peak in 2020.