Advanced Persistent Threat protection market to grow 2x by 2024 to $10.6 billion
Edward G. | May 12, 2020
According to Atlas VPN investigation, Advanced Persistent Threat (APT) protection market is projected to grow more than two times by 2024 to $10.6 billion. This is mainly due to the ever-increasing amount of internet users as well as the Internet of Things (IoT) devices, which creates more potential targets for hackers.
An advanced persistent threat is a cyber-attack on an organization or an individual, sponsored by a foreign government, agencies, or competitors. Threat actors try to steal valuable information from a company or an authoritative figure by gaining unauthorized access to a computer network.
Hackers remain unnoticed for an extended period since their main objective is to steal as much information as possible. One of the most common ways hackers infect users' computers is by sending emails containing a malicious attachment.
Many security-aware users know not to open attachments from unknown sources. To overcome this, cybercriminals firstly attempt to hack the target organizations' business partners that might be less aware of such threats.
Understanding and protecting from APT is crucial for every company since these attacks are much more sophisticated than other types of cyberattacks. These threats usually bring substantial monetary losses. Historical data shows that businesses lose, on average, $288,000 in damages from a single successful APT attack.
Moreover, since hackers tend to steal intellectual property, an APT attack can completely cripple a business.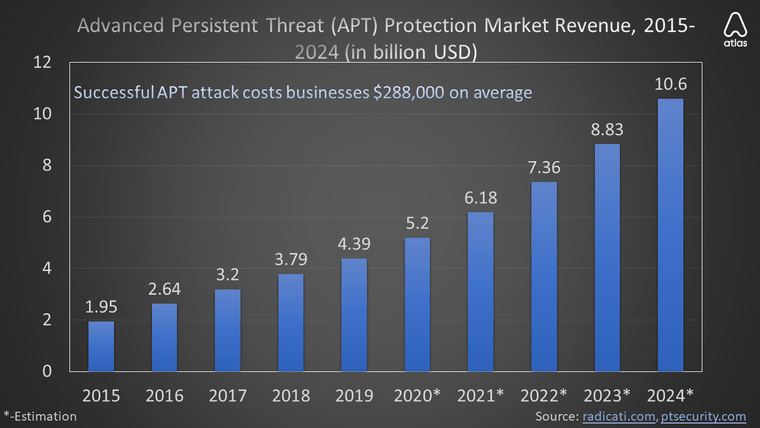 To protect themselves, companies hire cybersecurity firms. The APT protection market has been steadily growing since 2015. From 2015 to 2019, the market grew by around 23% annually.
This cybersecurity market is estimated to grow from $4.39 billion in 2019 to $10.6 billion in 2024. The current largest providers in the APT protection market are Symantec, FireEye, Fortinet, Intel Security, Trend Micro, and Blue Coat Systems.
The Advanced Persistent Threat protection market consists of services that provide detection, prevention, and mitigation of these sophisticated and persistent malicious attacks.
Targets will double over the next decade
Computers and the internet have already permeated many aspects of our life, which means that cybercriminals have more targets as well. For most criminals, internet crime brings substantial profits with less risk compared to traditional crimes.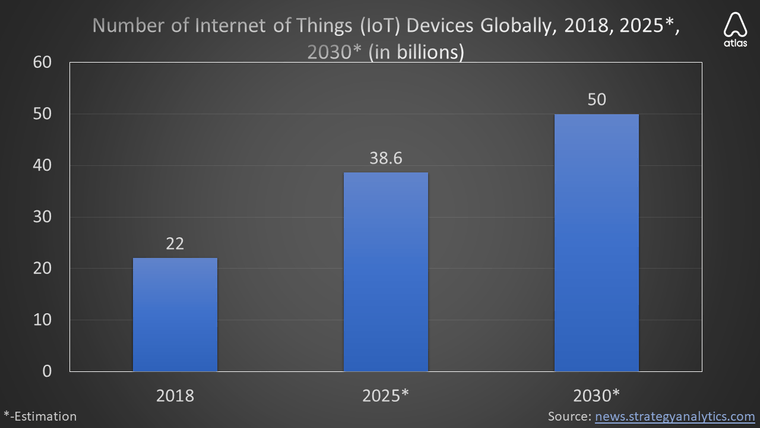 The number of devices connected to the internet reached 22 billion worldwide at the end of 2018. Strategy Analytics, a predictive analysis company, estimates that by 2025, there will be 38.6 connected devices globally.
The number is estimated to reach 50 billion by 2030. The firm also projects that media devices, connected vehicles, and wearable devices will be the segments seeing the most growth.
Cybersecurity and cryptography guru Bruce Schneier, in the documentary "Dark Web: Fighting Cybercrime" states, that you simply need to watch where the computers go, and that is where cybercrime will follow.
He explains that in the near future, criminals will start to hack into autonomous cars and will demand owners a ransom payment to be able to use the vehicle.
Attackers begin by looking for vulnerable IoT devices and trying to compromise them. Hackers can carry out thousands of attacks, but only a single one has to be successful in finding a new vulnerability in a particular device or software.
Over 4.5 billion potential victims in 2020
As the number of internet users grows, the possible cyber attack victims increase at the same pace. Human error is one of the most common reasons for a successful cybercriminal intrusion. Users often fail to apply patches or install updates promptly, making it much easier for attackers to compromise devices.
As of December 31, 2019, there are an estimated 4.574 billion internauts all over the world.
From these, users in Asia make up 50.3% of the total. Internet users in Asia surged by 1,913% from the year 2000 to the year 2020.
Following Asia, Europe gets second place in terms of internet users worldwide. The European internet community takes up 15.9% of the internet world. The user numbers grew by 592% from 2000 through 2020.
Africa, with over half a billion web users, takes the third place in terms of user numbers globally. They take up 11.5% of the internet world, with a staggering 11,559% internaut growth from 2000 to 2020.
Latin America, together with the Caribbean region, has over 454 million web surfers as of December 31, 2019. These regions constitute 10% of the internet world, with 2,411% user growth from 2000 to 2020.
There are over 349 million internauts in North America. They amount to 7.6% of internet users worldwide. North Americans adopted the use of the internet quite early, even before the 2000s. Internet user growth from 2000 to 2020 increased by 222% in North America.
Finally, the Middle East, together with North Australia/Oceania, has 209 million users combined. These two regions amount to 4.5% of internet users globally.