43% US Risk Professionals Say Cyber Incidents will Thrive in 2020, Businesses Ready to Invest
Anton P. | April 08, 2020
Data gathered and analyzed by Atlas VPN shows that 43% of business professionals predict US companies will get involved in a cyber accident by the end of 2020.
The statistics reveal risks US businesses may be facing in 2020. The predictions are based on a survey conducted by an insurance company named Allianz that involved 383 business and risk consultants. The findings show that 43% of the respondents think that top risk US companies will be facing in 2020 is cybersecurity incidents, such as cybercrime, data breaches, or IT failures.
According to 37% of business and risk professionals, the second most common risk is business interruption, such as supply chain disruption. It is worth noting the survey was conducted before the COVID-19 outbreak, meaning that the chance of business interruption will be even higher within the next few months.
Meanwhile, 32% of the respondents predict a risk of suffering from a natural catastrophe, such as storm, flood, or earthquake. Similarly, 20% of respondents included a  risk of a fire or an explosion.
At the same time, US companies are predicted to face the risk of sudden industry changes. Research shows that 24% of business professionals addressed a risk of market developments. It includes issues like volatility, intensified competition, or market stagnation. Once again, it is expected that the risk of market stagnation will grow within the next months due to the pandemic.
In 2020, US companies will also be facing a risk of such issues as economic sanctions (23%), shortage of skilled workforce (16%), loss of reputation or brand value (16%), climate change (16%) and impact of increased technology usage (9%).
Companies are aware of cyber-attack risks
A survey, conducted by Flexera software, shows that companies are aware that the risk of suffering from a cyber-attack is high. In 2020, organizations are investing in cybersecurity, with the lead priority being cloud security.
47% of organizations from the world reported a significant investment increase in cloud security this year, which is a technology that protects online data from theft, leakage, and deletion.
Recently, Forbes shared estimates of business cybersecurity spendings for the upcoming years. According to the article, companies are predicted to spend $12.6 billion on cloud security tools by 2023, counting from $5.6 billion in 2018, predicted by the Forrester Research company.
The article also reveals that cloud security expenses are predicted to increase from $636 million in 2020 to $1.63 billion in 2023.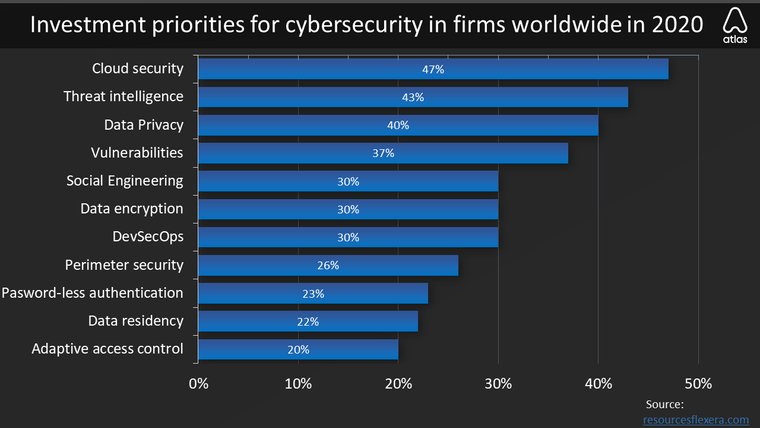 At the same time, enterprises are focusing on threat intelligence. 43% of survey participants agreed they are investing in this field significantly more in 2020. Threat intelligence helps companies to prepare, prevent, and identify cyber threats looking to take advantage of valuable resources.
As well, 40% of companies worldwide are prioritizing data privacy. 30% are focusing on social engineering, data encryption, and DevSecOps (development, security, and operations).
With experts claiming that the global recession due to COVID-19 is inevitable, companies are re-evaluating their priorities and already cutting costs. It is predicted that small organizations may no longer be prioritizing cybersecurity tools amid the recession.
Meanwhile, corporations are aware of how hackers can take advantage of the crisis and target them. Hence, bigger companies are expected to continue investing in certain cybersecurity technologies, such as cloud security or threat intelligence, but may cut down on password managers or perimeter-based security systems.
In 2020, only 23% of companies worldwide are planning to invest in password managers more than they did earlier.
Lastly, 22% of interviewed organizations claimed they would be increasing their spendings on data localization or risk-adaptive protection (20%).