39% of Spam Emails Offer Fake Medical Products
Edward G. | April 28, 2020
According to data collected and analyzed by Atlas VPN, health-related spam emails was the most common category of spam last year. In 2019, 39% of spam emails were promoting fake pharmaceuticals and health cures.
In 2018, 22% of spam emails were offering phony medical products, representing a 77% growth of health-related emails sent in 2019 globally.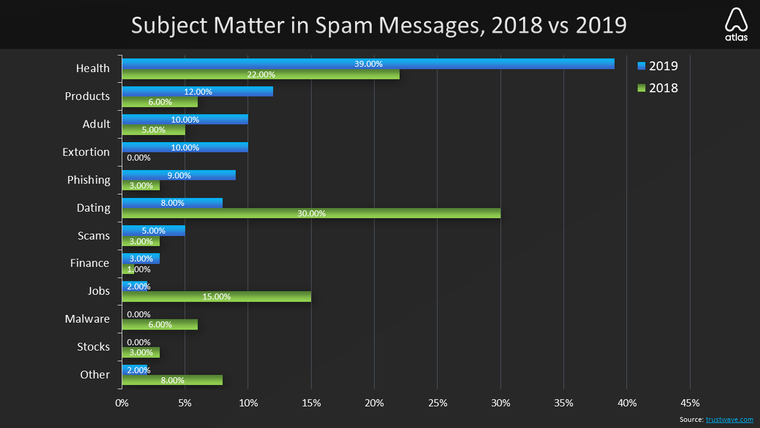 It is no secret that the number of spam emails selling medical products is expected to increase by hundreds or thousands in 2020. A few days ago, Gmail warned its customers to use the service with caution and be careful not to open suspicious coronavirus-related messages. Gmail usually blocks 100 million phishing emails daily. Last week alone, 18 million of those emails were related to COVID-19.
Meanwhile, spam emails that promote adult products doubled last year. In 2018, 5% of spam emails were offering adult-themed items, while in 2019, the number increased to 10%. At the same time, the percentage of phishing emails increased from 3% in 2018 to 9% in 2019. Representing a 200% growth globally.
The number of spam emails, offering general products – non-adult or medicine items – doubled, as well. In 2018, 6% of spam emails promoted general items; meanwhile, last year, the number hit 12%.
Last year, the percentage of extortion scams in email messages rose dramatically. In 2018, Trustwave's radar did not detect any emails that were sent to blackmail the receiver. Meanwhile, in 2019, 10% of spam emails were extortion scams.
Also, the number of extortion scams sent through email is expected to rise dramatically in 2020. Last week, the FBI reported an increase in reports of extortion emails. The officials say it is likely due to people staying home and being on the internet more than usual, according to an article shared by KRCGTV.
Lastly, finance-related spam emails rose from 1% to 3% in 2019. As well, various types of scam emails reached 5%, in comparison to 3% in 2018.
Most common types of spam emails
Being one of the most common types of spam emails, dating scams decreased significantly last year. In 2018, 30% of detected spam emails were dating scams, while in 2019, the number dropped to 8%. At the same time, job-offering emails decreased to only 2%: in 2018, 15% of spam emails were job offers, which represents a 86% drop.
Interestingly, Trustwave's spam radar was only able to detect 0,2% of malicious emails in 2019. In comparison, 6% of spam emails sent and received in 2018 were with malware infection.
Last year, the number of spam emails related to stocks detected by Trustwave's radar decreased to about 0%, while it reached 3% in 2018.
Over half of malware-infected emails had Microsoft Office files attached
Although the numbers of malware-infected emails decreased, the issue remains. In 2019, nearly 47% of emailed malicious files were Microsoft Office Word .doc and .docx files, while over 7% were Excel .xls or .xlxs files.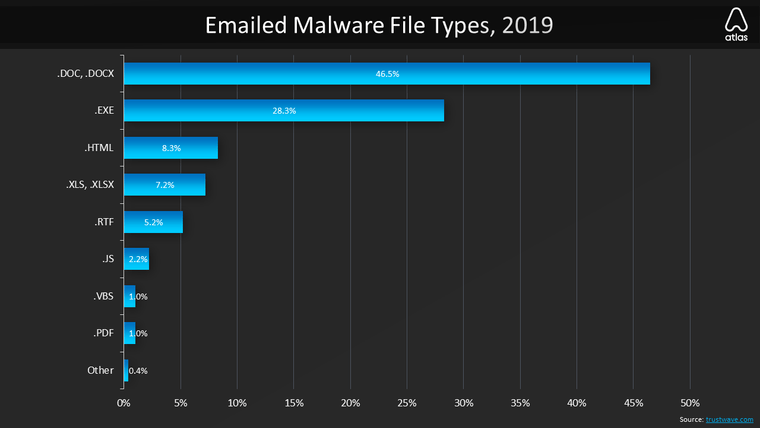 Cybercriminals use Microsoft Office Word or Google Docs quite often. Attaching an infected Word or Docs file is one of the easiest ways they gain access to sensitive information.
According to an article shared by Wired, sending infected Google Docs files is the future of phishing: it tricks the user into granting permissions to a third-party application that looks like a Google docs file, opening new possibilities of exploiting sensitive data.
Typical phishing schemes take visitors to malicious websites. Meanwhile, visitors giving access to third-party applications allow hackers to get access to their emails or address books.
The second most common type of emailed malware were portable executable format files. In 2019, over 28% of malware-infected files sent over email were in the .exe format.
At the same time, more than 8% of malicious files sent through email were in .HTML format. Typically, malicious HTML files direct to breached web pages or phishing sites. By entering the latter, visitors get their credentials stolen.
The rest of the malware-infected attachments sent through email in 2019 were Rich Text Format, (5.2%), JavaScript, VBScript (1%), and PDF (1%) files.